From Katherine Wojtecki
CNN





FALCON, Missouri (CNN) -- Tucked away in the woods of central Missouri, obscured by tall trees and broken-down cars, is the mobile home of the U.S. citizen being detained in Myanmar.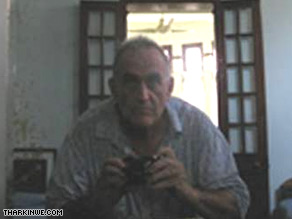 Officials in Myanmar say this self-portrait was found on John Yettaw's digital camera.
Journalists have been flocking to John Yettaw's modest residence in the unincorporated community of Falcon for insight into the man who allegedly swam across a lake and sneaked into the home of Myanmar opposition leader Aung San Suu Kyi while she was under house arrest.
Yettaw was charged Thursday in Myanmar on two criminal counts: entering the country illegally and staying at a resident's home without government permission, according to a spokesman for Suu Kyi's political party.
Both charges carry a maximum sentence of five years in prison.
Yettaw allegedly stayed overnight in the lakeside home, violating the conditions of Suu Kyi's house arrest, according to the country's ruling military junta, which rarely grants her visitors. The 1991 Nobel Peace Prize laureate was subsequently detained and faces trial on Monday.
Conversations with Yettaw's neighbors conjured a blurry image of a man known as a friendly intellect to some and an eccentric recluse to others, deepening the mystery of who he is and what he was doing in Myanmar. The southeast Asian country was known as Burma before the military government changed it to Myanmar. Those who oppose the junta still use the old name.
"John was always a friendly guy, to me he was," neighbor Mike Assell said. "He was just a very intelligent man to talk to, he was very literate, he had a good vocabulary and you could talk to him and he understood what you were talking about... he was well-read."

Watch Assell describe his neighbor »
Assell described Yettaw as someone who was friendly but did not actively participate in the community.
"I think he wasn't really afraid to talk to folks, but he really was not outgoing," Assell said. "He has his own -- I don't know if agenda's the right word -- he has his priorities and he is working toward those."
Among those priorities were his family and furthering his career as a medical doctor, Assell said.
"He really protected his children, he wanted their best interests worked toward, making sure they were educated, they went to school and that sort of thing. He had some rules and family was high on his list of priorities," he said.
Yettaw's home, about two miles off the nearest gravel road and nearly half a mile from the closest neighbor, appeared empty Thursday, but neighbors said he lives there with his children, ages 10 to 22.
Don't Miss
He and first wife, Yvonne, divorced about six years ago, but most of their seven children stayed with Yettaw. An older son from Yvonne Yettaw's first marriage, Craig Dehner, lives in Springfield. He declined CNN's request for comment.
One of Yettaw's sons died in a motorcycle accident a few years ago, Assell said.
Some neighbors who were unwilling to give their names described him as an Army veteran who struggled with drinking and post-traumatic stress disorder. Others said he was an activist type, whose only political agenda was to help others even if it meant charting new territory.
Little is known about Yettaw's role in the Myanmar incident or his intentions, apart from local media reports that said Yettaw, a diabetic, told Suu Kyi's two housekeepers he was tired and hungry after the swim and they offered him food. Some previous media reports referred to him as John William Yeattaw.
The government said Yettaw's presence violated the conditions of Suu Kyi's house arrest.
She was weeks away from completing six years of house arrest, according to the U.S. Campaign for Burma, a pro-democracy group fighting for her release, which says her detention is a ploy to extend her house arrest.
Yettaw's neighbors said they were unsurprised to find out he was in Myanmar, given his educational background and passion for helping others.

Assell speculated that efforts to pursue his career might have sent him to Myanmar.
"He probably saw an opportunity to put some of his education to use over there," Assell said. "That was a way he could expand in those areas."

E-mail to a friend

All About Aung San Suu Kyi • Myanmar