By Mallory Simon
CNN






(CNN) -- When pitcher Josh Faiola walks out of the dugout on opening day with the Lake Erie Crushers, he'll already have a large group of fans in the stands -- his new roommates at the Belvedere of Westlake assisted living facility.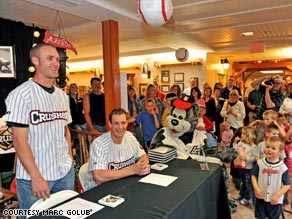 Pitcher Josh Failoa stands as residents and friends of The Belvedere of Westlake welcome him Tuesday.
The 25-year-old, who was drafted in 2006 by the Baltimore Orioles and is trying to work his way to the majors, admits he was caught a little off guard when he was told about his new housing situation.
"At first I was like, 'OK, that's a little different,' " he said. "I was taken aback at first."
And he was also the butt of a couple jokes from his teammates.
"They were saying things like 'So what's the deal? Do you have to go to bed early?' " Faiola said.
But then he told them about his room -- a large suite, with his own kitchenette, washer and dryer, furniture and a TV.
"Then they changed their tune," he said. "They were like 'That's awesome. Are they any other vacancies?' "
Like many of the players in the independent Frontier League who don't rake in the big bucks, Faiola is living with a host family.
But his host family is a little different. Most of the players live with families with younger children. But in his case, Faiola is the young one -- about 55 years younger than the rest of his "roommates."
Eighty-four-year-old Meda Dennis, who has been living in the center for four years, said Faiola's arrival is the most exciting thing to happen since a good Elvis impersonator showed up.
"It's been quite exciting because he's young and new and interesting and we're old," she joked.
Faiola made his way to the assisted living center in Westlake, Ohio, near Cleveland, with the help of Cindy Griffiths-Novak. She heard the new local baseball team was looking for host families for the players. But because she has a 3- and 4-year-old at home, she turned to her family's assisted living center as an option for Faiola.
Griffiths-Novak went to the residents with the idea and they unanimously voted for Faiola to live there.
But his new housing situation is about more than just a place to crash after the game.
"It certainly is great for the residents because now we get a lot of energy and youth and excitement," Griffiths-Novak said.
It has turned into an exciting time for the residents, who jumped at the chance to decorate the entire facility before the pitcher's arrival.
"You should see the decorations," Griffiths-Novak said. "The residents all signed motivational good luck pennants for him, there's a 40-foot banner, we have a whole thing dedicated to Josh. I'm sure he is so embarrassed with all of the baseball cards with their face on it."
They've made signs telling him he's in a league of his own, but they've also set their expectations high for him.
"Some of the pendants say things like 'Don't get cut, move your butt,' " Griffiths-Novak said. "He's certainly going to be under the microscope! We'll be watching and keeping track of all of his stats."
Faiola was awestruck when he walked in and saw all of the decorations. The activity director has been doing craft activities with the residents -- making visors with baseball logos and Crushers necklaces in anticipation of the game.
Dennis is looking forward to watching their new ace pitcher hit the mound even though she hasn't seen a baseball game live in a while.
"Anything's better than the Indians right now," Dennis joked. "We'll definitely be cheering for him, though, and if he happens to have a bad game, he'll have a lot of shoulders to cry on. But I don't think he'll need them."
Norma J. Lane, 85, said even though she's more of a football fan, she's looking forward to following Faiola and baseball more closely.
"We are just wishing him well because it's such a great experience for all of us," Lane said. "We're looking forward to having him around."
Faiola said he is excited to help bring some fun to the residents, some of whom are already considering him to be like a grandson.
"I always loved spending time with my grandparents and one of my great-grandparents was in an assisted living home and I remember how excited she was to see us when we went to visit her," he said. "And they are being so nice to open up this place to me, so hopefully I can bring a little bit of joy."
Faiola, who had surgery two years ago and was dropped from the Orioles during spring training, is hoping his stint with the Crushers can help get him picked up by a Major League team.
Regardless of what happens, he knows he has the support of his new roommates.
"They've all really come out and supported me, they even bring me food and give me snacks," he said. "I couldn't ask for anything better. And with all of them watching so closely, I'll have to keep my game up. They've definitely set a high bar for me."
E-mail to a friend

All About Cleveland