(CNN) -- West Virginia Gov. Joe Manchin surveyed areas of his state Monday where weekend flooding destroyed more than 300 buildings, prompted evacuations and left behind miles of mud and debris.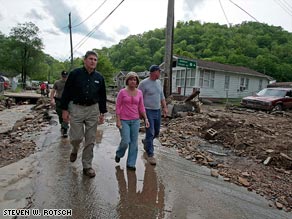 West Virginia Gov. Joe Manchin tours Mingo County to assess damage caused by extensive rain and flooding.
"The water has receded, and yesterday was a dry and sunny day, thankfully," said Robert Jelacic, spokesman for the Division of Homeland Security and Emergency Management.
"All the waters have receded out of the flood area, and major rivers have receded also, but right now we're looking at significant rainfall" predicted later this week, he said. "We're watching and monitoring at this point in time."
Heavy rain and flooding Friday and Saturday prompted Manchin to declare a state of emergency in six West Virginia counties and to call up 330 members of the National Guard to assist with recovery, Jelacic said.
Most of the National Guard are in Mingo and Wyoming counties, areas with the heaviest damage, Jelacic said.
Don't Miss
The governor's office issued a statement saying Manchin was surveying damage for a second day on Monday.
"Since I have been governor, the damage that was caused by the flash floods and rain is as bad as I have seen anywhere," the governor said in a statement released Sunday. "The period of bad weather that hit this region did so with tremendous force and devastation."
Jelacic said the flooding destroyed at least 300 homes and damaged hundreds more. Assessment teams were evaluating the damage on Monday and will have a more definitive sense of the number of destroyed and damaged buildings afterward, he said.
He said it was difficult to know the number of people affected by the flooding because so many people took refuge in the homes of friends or family members. One shelter in Mingo County was open, he said.
He said forecasters were predicting some rain Monday night, with heavy showers later in the week.
E-mail to a friend

All About West Virginia • Weather