BOSTON, Massachusetts (CNN) -- The operator of a trolley that rear-ended another trolley should have been able to see the other vehicle was stopped 480 feet ahead, a federal investigator said Monday.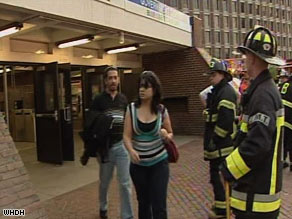 Passengers walk past firefighters at a Green Line station in Boston after the trolley collision Friday evening.
The trolley driver has told investigators he was text messaging during Friday night's collision, which injured 20 people.
The Massachusetts Bay Transportation Authority, which previously had banned operators from using cell phones and other portable devices, now has told employees to leave the devices at home while on duty, National Transportation Safety Board member Debbie Hersman said Monday.
Hersman also noted investigators have determined that the operator may have missed some crucial indications of a stopped trolley ahead on the tracks.

Watch new transit rule on cell phones »
"There were several signals -- two green signals, a yellow signal and a red signal -- coming out of the station, and the point of collision occurred 80 feet past that red signal," Hersman said. "We did a site-distance test, and we know that the operator had the ability to see the trolley stopped in front of him 480 feet in advance of the collision."
Boston officials said over the weekend that the trolley operator was using his cell phone. Numerous media outlets, including CNN's Boston affiliates, have identified the driver as 24-year-old Aiden Quinn.
"The operator of the striking train was interviewed at the hospital by two detectives," said MBTA general manager Daniel Grabauskas. "He admitted that he was texting at the time of the accident."
The operator told detectives that, when he looked up, "it was too late as he applied the brake and the train struck the other trolley," Grabauskas said.
He described himself as "outraged."
"We have reinforced for a number of years that the use of cell phones or any other kinds of electronic devices while operating a train or a bus is absolutely prohibited," Grabauskas said.
Though the investigation is ongoing, he said, the two-year employee will be fired if his version of events is confirmed.
None of the injuries was considered life-threatening, the MBTA said.
The collision happened at 7:18 p.m. ET Friday as the Green Line trains were traveling between the Park Street and Government Center stations in downtown Boston.

Both trains were traveling westbound when one train rear-ended the second, an MBTA official said.
A train operator also was text messaging last year in a California train crash that killed 25 people.
E-mail to a friend

CNN's Rob Frehse and Gary Bender contributed to this report.
All About Rail Accidents • Boston