By Patrick Oppmann
CNN





SEATTLE, Washington (CNN) -- What started as a romantic Southeast Asia vacation for a Seattle couple ended with Ryan Kells preparing Friday to return from Bangkok carrying the ashes of his fiancee to give to her family in California.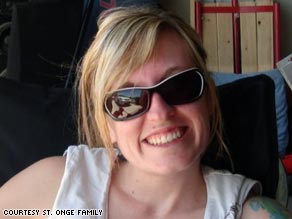 Jill St. Onge died while vacationing with her fiance at a Thailand resort.
"It's such a shock," Robert St. Onge told CNN about the death of his sister, Jill, who had been traveling with the man she planned to marry. "There was no way to hear last words or even see her because she has already been cremated."
The couple had been visiting Thailand at the end of a three-month journey during which the two had become engaged.
On April 26 in her online journal, the 27-year-old woman described the surroundings near where the Leonardo Dicaprio movie, "The Beach," was filmed.
"Hey hey! We're in koh phi phi right now. It's off the west coast of Thailand about a 2 hour boat ride from krabi. So amazing... just drinking eating and living so cheaply and having a blast. Food, drink, good books, sun and warm waters... What else do ya need?," St. Onge blogged.
But on May 2, Kells found St. Onge, who had told him earlier that she had not been feeling well, vomiting in their room at the Laleena guesthouse on Phi Phi island. He put her into a shopping cart and searched for help.
"She couldn't breathe. She was vomiting," Kells, 31, told CNN affiliate KGO-TV. "I tried to run her to a hospital and she ended up passing within, maybe, 12 hours of being sick."

Watch fiance discuss death of bride-to-be »
Robert St. Onge said his sister had been healthy and that her sudden death is a mystery.
Adding to the mystery is the fact that another tourist, a 22-year-old Norwegian woman, died at the same resort the same weekend, the U.S. Embassy in Thailand said.
The manager of the Laleena guesthouse has said in published reports that he believes the women's deaths came from drinking heavily.
Norwegian media reported that the Norweigan woman could have been a victim of food poisoning. Newspapers in Thailand have questioned whether both women were poisoned, quoting police sources.
In Internet postings on a Web site created to update friends and family on the tragedy, Kells also described feeling ill at the hotel and said that he believed something in their room had made the couple sick.
Kells also said he had spent less time in their room than his fiancee.
The U.S. Embassy in Thailand has been working with the St. Onge family to determine what happened.
"The police know we are concerned about this, but as with any investigation, it could take some time," said embassy spokesman Michael Turner.
Robert St. Onge said Thai authorities told his family that the inquiry could take four to eight weeks. He said his family has been given tissue samples so they can have testing done by an independent laboratory.

At Shadowland, the Seattle, Washington, restaurant where Jill St. Onge used to work as a bartender, a corner of the bar is filled with pictures, candles and postcards from the couple.
"Greetings from Phnom Penh," one from Jill reads, "We love you guys."
E-mail to a friend

CNN's Lateef Mungin contributed to this report.