SANTA BARBARA, California (CNN) -- A wildfire that has engulfed dozens of homes and displaced thousands of people kept roaring in Southern California on Friday, as fire officials acknowledged they're not sure how much luck they'll have slowing the blaze.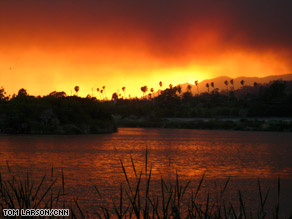 Smoke from a wind-fueled wildfire casts a glow over Santa Barbara.
"We have a lot of resources on the line -- our folks are working their hearts out," Joe Waterman of the California Department of Forestry and Fire Protection told reporters.
An estimated 30,000 residents of Santa Barbara County have been ordered to evacuate because of the blaze, which has scorched more than 3,500 acres and damaged or destroyed at least 75 homes, emergency officials said.
Santa Barbara County Fire Chief Tom Franklin said the fire has displayed a "roller coaster effect" because of the changing weather patterns.
"It starts off, looks kind of calm, thinking we're getting the upper hand, turns out we're not," Franklin said. "As unpredictable as the weather can be, that's about as unpredictable as the fire is going to be."
The fire has engulfed mansions in the coastal community's foothills after starting Tuesday in the Cathedral Peak area.

"Nervous" in fire zone »
It was about 10 percent contained by Friday morning, fire officials said. Nearly 2,500 people are working on battling the blaze.

Watch how the wind pushed fire into new neighborhoods »
They could get more help at nightfall Friday, when cool winds from off the coast are expected to bring humid air and cooler temperatures.
Don't Miss
But that's the same thing that was expected Thursday night, when the direction of the winds unexpectedly flipped, blowing the fire back toward the sprawling mansions and other homes that dot the hills of the coastal community.
The winds that began blowing around sundown Thursday topped 50 mph.
"Last night, all hell broke lose," Santa Barbara City Fire Chief Andrew DiMizio said. He praised firefighters, who battled a fire front nearly five miles long.
"They were dealt with a deck a cards that was pretty haphazard," DiMizio said.
The cause of the fire is unknown, and authorities are asking anyone with information on its origin to call a tip line.
The blaze comes about six months after the Tea Fire destroyed about 200 homes in the Santa Barbara area.
"It's just horrible. We're all in a panic here. It's terrifying," iReport contributor Exton Quinn said Thursday. Are you there? Send photos, videos
Quinn said she and a friend were out shooting video Wednesday night when "all of a sudden, the wind changed and a house caught on fire just behind me."

Her duplex, on the edge of a mandatory evacuation zone, hadn't burned. But the artist and architect said she was concerned as she headed for Los Angeles on Thursday.
"I have hundreds of paintings, so I would just lose everything," she said.
E-mail to a friend

CNN's Jim Kavanagh and Kara Finnstrom contributed to this report.
All About Wildfires • Santa Barbara