From Paul Courson
CNN






WASHINGTON (CNN) -- It was 40 years ago this summer that U.S. Marine Gunnery Sgt. Enrique Valdez was nearly killed by shrapnel in Vietnam and 15 years ago that he died from wounds suffered that August in 1969.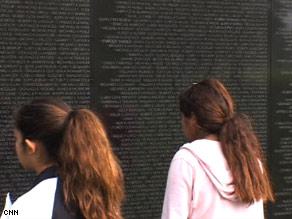 Visitors scan the names on the Vietnam Veterans Memorial in Washington.
His name is the latest on the Vietnam Veterans Memorial in Washington, added to "The Wall" on Tuesday, after the Defense Department concluded that his status matched the criteria to be included on the panels.
After being wounded in Vietnam at the age of 32, Valdez spent the rest of his life as a quadriplegic. The shrapnel had cut his spinal cord. When he died of pneumonia in 1994, bureaucratic delays seemed to rule out that he might be recognized for his service to the country.
His family worked for years to have his name added to the memorial, and the notification finally came -- but without explanation from the Defense Department.
"What changed?" his daughter Tina Valdez asked when she was told that her father qualified. "I've been sending [the Defense Department] the same information for 14 years. Why all of a sudden is it different now?"
Wednesday, smiling and pointing to the fresh lettering on Panel 17, she said, "I never got a response, but it's OK, because his name is here!"
She was accompanied by her sisters and her brother, all of whom shared memories of both before and after their wounded father came back from the war.

Watch more on Gunnery Sgt. Enrique Valdez »
"The night he had to go to the bus station for his second tour of duty," recalled Rick Valdez, who was 7 at the time. "That was the last time I saw him walking."
"The next time we saw him was at the Veterans Administration hospital in Long Beach [California], after they shipped him home," he said.

Enrique Valdez joins 58,260 other names listed on the Vietnam Memorial, and his is the only name added under 1969, for combat deaths that year or later deaths from injuries sustained in combat that year.
Memorial Day ceremonies scheduled for May 25 will officially add his name to the memorial's registry.
E-mail to a friend

All About Vietnam Veterans Memorial