(CNN) -- Longshot thoroughbred Mine That Bird plowed down a muddy track at Churchill Downs to win the 135th Kentucky Derby on Saturday by several lengths.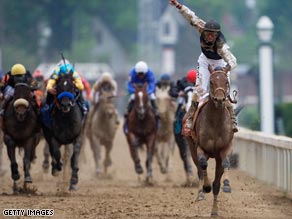 Calvin Borel atop Mind That Bird crosses the finish line to win the 135th running of the Kentucky Derby.
"Fifty-to-1!" jockey Calvin Borel exulted after the race, referring to the odds on his mount at post time. "It's all in the head."
Borel and Mine That Bird worked their way up from the middle of the pack in the home stretch to finish with a 6¾-length lead over second-place finisher Pioneer of the Nile, a 4-1 pick. Musket Man, at 20-1, finished third.
It was Borel's second time riding a Kentucky Derby winner, having won the 2007 race aboard Street Sense. And it was a bad day for favorites, with top overnight pick I Want Revenge scratched after trainers found a problem in its left front ankle and post-time top pick Friesan Fire finishing near the back of the 19-horse field.
I Want Revenge wrenched its ankle while training on the wet track Friday morning, race officials said, and trainer Jeff Mullins said the horse is also not likely to run in the Preakness -- the second event in horse racing's Triple Crown -- on May 16.
Churchill Downs veterinarian Dr. Larry Bramlage said the decision showed Mullins and owner David Lanzman "are not getting swept up in Derby fever and making a poor judgment call today."
"We have to err on the side of caution," Bramlage said. "And so I would like to commend the owners and trainer as well for doing what's right by the horse until we can figure out what's going on."
The sport has seen two dramatic deaths in the past three years. Second-place thoroughbred Eight Belles had to be euthanized on the track after collapsing with two broken ankles just after crossing the finish line in the 2008 Kentucky Derby. And in 2006, Derby winner Barbaro's right rear leg shattered at the start of that year's Preakness.
Veterinarians managed to save the horse in the aftermath of the race, but ongoing complications from the catastrophic injury led to the horse being put down the following January.
E-mail to a friend