(CNN) -- Five people died Tuesday in Central California in a crash of a tour bus carrying mostly French nationals, police said in an update. Four were initially reported dead.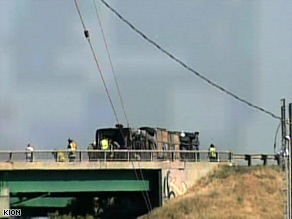 The crashed bus is on its side across the southbound lanes.
"There were people ejected," California Highway Patrol spokesman Brian Wiest said of the crash.
Thirty-six people were aboard -- the driver, a tour guide and 34 French nationals. Everyone aboard was injured, some sustaining only bumps and bruises. Police could not say which five had died.
The French nationals were heading to Los Angeles to fly home to France, Wiest said.
Highway 101 near Soledad, California, was closed in both directions for about 2 1/2 hours after the crash. The crashed bus lay on its side across the southbound lanes.
The bus belongs to Orion Pacific, a charter service that provides trips "across the USA and around the world," according to its Web site. No one answered the phone at Orion Pacific when CNN tried to call.
The crash happened about 3:23 p.m. (6:23 p.m. ET), the California Highway Patrol said.
No cause of the crash has been determined.
E-mail to a friend