By Deb Krajnak
CNN





(CNN) -- After Hurricane Ike slammed into Galveston, Texas, in September, the 12-block Strand Historic District, with its 19th-century buildings and their elaborate cast-iron storefronts, was awash in 13 feet of saltwater, oil and debris.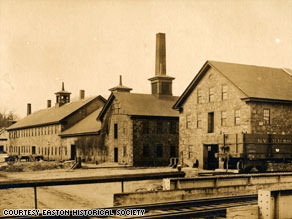 The Ames Shovel Shops in Easton, Massachusetts, played a key role in the gold rush.
The water "permeated the columns and arches, weakening the interior brick support and greatly accelerating rust," said Peter Brink, vice president for programs at the National Trust for Historic Preservation. In other words, the forces of nature put a historic area in jeopardy.
In response to Ike, and as part of an ongoing effort to save threatened historic sites across the United States, the National Trust has added the Galveston district to its annual list of "America's 11 Most Endangered Historic Places."
Since 1988, the National Trust has announced an annual list of sites it aims to restore, protect and preserve.
"Whether these sites are urban districts or rural landscapes, Native American landmarks or 20th-century sports arenas, entire communities or single buildings, the list spotlights historic places across America that are threatened by neglect, insufficient funds, inappropriate development or insensitive public policy," the group said on its Web site.
"The list, which has identified 200 sites through 2008, has been so successful in galvanizing preservation efforts across the country and rallying resources to save one-of-a-kind landmarks that, in just two decades, only six sites have been lost," the organization said.
On Tuesday the nonprofit organization is scheduled to announce that Galveston's cast-iron architecture and 10 other sites are on its 2009 List of America's 11 Most Endangered Historic Places.
Organization President Richard Moe, accompanied by actor and organization trustee Diane Keaton, planned to release a report on this year's list at a Los Angeles ceremony near the Century Plaza Hotel, one of the sites on the 2009 endangered list.

Learn more about the endangered places »
Keaton has lobbied to save the hotel, a notable example of 1960s architecture and a magnet for the rich and famous. It is scheduled for demolition.
Late last year, Keaton told the Web site Curbed LA, "I'd say that the Century Plaza has been a late 20th-century counterpart to the Ambassador Hotel." The Ambassador, a 1920s-era landmark, was razed a few years ago despite considerable protest.
"If ever there was a place where show biz merged with politics, the Century Plaza has been it," Keaton said, referring to a hotel that has counted among its guests every president since Lyndon Johnson.
Proposed sites for the National Trust list are submitted to its regional offices. The final list aims to represent "different kinds of historic places ... suffering from different kinds of threats in different parts of the country," Moe said.
In Galveston, it was the fury of nature hurled in a hurricane. The flooding was "horrible. It was a very shocking and depressing sight," said Allen Flores, president of the Strand Merchants Association.
In addition to Galveston's Strand district and Los Angeles' Century Plaza Hotel, the sites on this year's "Most Endangered Historic Places" list are:
Ames Shovel Shops Easton, Massachusetts
The 19th century industrial village is threatened by a plan to demolish several of its historic buildings and extensively alter others to allow for a new mixed-use development.
Dorchester Academy Midway, Georgia
Initially a one-room schoolhouse, it was founded in 1868 as a school for freed slaves and served as a voter registration center during the civil rights movement. The academy's last remaining building, a 1934 Greek Revival dormitory, is seriously deteriorating.
The Manhattan Project's Enola Gay Hangar Wendover Airfield, Utah
The hangar that housed the Enola Gay, the B-29 Superfortress that dropped the world's first atomic bomb on Hiroshima, Japan, on August 6, 1945, is in a major state of disrepair.
Human Services Center Yankton, South Dakota
The center was founded in 1879 as the South Dakota Hospital for the Insane, and resembles a New England college campus, with neoclassical, Art Deco and Italianate buildings. These have been vacant for years. The state, which is moving to demolish 11 of these, built a new psychiatric facility on the grounds in the 1990s. There is potential to reuse the buildings, the National Trust says.
Lanai City, Hawaii
Lanai, known as the "Pineapple Isle," is one of Hawaii's six main islands. It was developed by pineapple baron James Dole in the early 1920s, and has a feature none of the other islands have: an intact plantation town. There are vintage homes, a jail, courthouse and police station. The city, population 2,400, is threatened by a proposal for commercial development that would destroy 15 to 20 buildings. Lanai Island is 18 miles long and 13 miles wide, and is eight miles west of Maui.
Memorial Bridge Portsmouth, New Hampshire, to Kittery, Maine
The nation's first "vertical lift" bridge spans the Piscataqua River to connect the historic downtowns of Portsmouth and Kittery. Maine and New Hampshire are considering replacing the structure, against the wishes of many residents. The bridge has a center span that rises vertically to 170 feet to allow ships to pass underneath.
Miami Marine Stadium Virginia Key, Florida
The 1964 stadium is a South Florida landmark and is considered an icon of modern design. It was designed by a Cuban immigrant architect who directed it be built entirely of poured concrete. It has a dramatic cantilevered, folded-plate roof that resembles white sails above Biscayne Bay. The city closed the stadium after Hurricane Andrew damaged it in 1992, and it is a prime target for developers. The structure suffers from deterioration, vandalism and neglect.
Mount Taylor Grants, New Mexico
Mount Taylor is located in the southwestern corner of New Mexico's San Mateo Mountains, midway between Albuquerque and Gallup. It has an elevation of nearly 12,000 feet, and is a sacred site for as many as 30 Native-American tribes. The area is threatened by more than 160 proposals for uranium mining.

Unity Temple Oak Park, Illinois
The Unity Temple near Chicago was one of architect Frank Lloyd Wright's favorite commissions, and thousands of people visit it each year. He designed it for a Unitarian congregation, of which he was a member, after the original church was destroyed by fire. The cubist, flat-roofed structure is one of the earliest public buildings to feature exposed concrete, one of Wright's signature design elements. Years of water infiltration have damaged the structure, prompting a multimillion-dollar rescue effort.
E-mail to a friend

All About Galveston • Historic Buildings • National Trust for Historic Preservation