By John Murgatroyd
CNN






EASTON, Pennsylvania (CNN) -- It's been dubbed the No. 1 high school rivalry in the United States. But last decade, Phillipsburg High School and Easton Area High School left the football field without a clear winner: a 7-7 tie.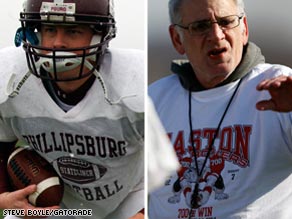 This weekend, Phillipsburg and Easton highs will settle 1993's "sister kiss" once and for all.
Back then, there was no overtime in high school games, and it's stung ever since. In gridiron parlance, it's known as "kissing your sister."
"I didn't know how to feel, stopping the end of my high school career being on a tie," said Bruce Lebitz, an inside linebacker for the 1993 Phillipsburg team.
That's about to change. The gridiron grudge match will be played this weekend. There will be no ties this time around. They're even breaking a century-old Turkey Day tradition, all in the name of who gets the bragging rights from that night so many years ago.
The players are now grown men in their early 30s. Hair is starting to turn gray, and waistlines have expanded. Some are family men, and most have full-time jobs. They had eight weeks to get back in game shape, and most jumped at the chance.
The Stateliners of Phillipsburg, New Jersey, and the Red Rovers of Easton, Pennsylvania, are separated by the Delaware River but connected by their bitter football feud, played on Thanksgiving Day since 1906. The winner walks away with "The Fork of the Delaware" trophy.

Watch how 10,000 tickets sold in 90 minutes for game »
"We're two blue-collar communities. A lot of factory workers, people like that, that have so much in common," said Steve Shiffert, a former coach for Easton. "I think that's what makes it so unique that for a couple of hours on Thanksgiving morning, then we consider ourselves different."
As the years go by, memories of games remain.
"Thanksgiving is the barometer at which you are judged in these communities," Shiffert said. "What you do on Thanksgiving sticks with you for life."
Don't Miss
Perhaps one of the sharpest games was that 1993 contest. No one walked away with the Fork trophy.
Easton was heavily favored to win the game and scored the first touchdown. Phillipsburg immediately answered with a touchdown of its own. Then, the underdogs dug in.
The high-flying heroics of Timmy Flynn to save Phillipsburg from defeat were the stuff that legends are made of.
"We made three big plays during the course of the game. We had two goal-line stands," said Bruce Smith, Phillipsburg's coach in 1993. "With about five minutes to go, Easton was lining up for what should have been a gimme field goal, and Timmy Flynn broke through and blocked it. And then five minutes later, the game was over."
Although it was an unexpected showing from the Phillipsburg team, players from both teams left the field frustrated without a win.
"I didn't want it to end like that," Lebitz said.

Watch Lebitz lose 60 pounds for big game »
The experiences of that day gathered cobwebs in the back of the players' minds, unresolved, until one fateful moment.
Gatorade, the sports beverage company, announced that it was organizing a replay: the same players, same coaches and the same field. NFL stars Peyton and Eli Manning will serve as honorary coaches for the rival teams. Ten thousand tickets to the game were sold in 90 minutes.
"Typically, you don't get second chances in life. And to get this kind of second chance means the world to both sides of the river," Smith said.
And who wouldn't jump at the chance?
"I don't think there's a guy who's strapped the pads on in the country at one point in time in their life who hasn't said, 'Wouldn't it be awesome if I can do that one more time?' " said Mike Cerimele, the director of Velocity Sports Performance in Allentown, Pennsylvania.
Cerimele has been leading the workouts for the players on both teams, along with members of the Gatorade Sports Science Institute, which designed a training and nutrition program. They have watched many players drop more than 30 pounds in recent weeks. One player was able to stop taking medication for high blood pressure and cholesterol because of the improvements in his health.
"The inspiration is really hearing some of these guys going, 'You know what ... this has really made a difference in my life,' " said John Stofan, a scientist with the Gatorade Sports Science Institute. "This is a lifestyle now."
Training or not, a full-contact, four-quarter game will take a toll on a person who has been away from the game for 15 years.
"When you actually run out on the field for the game and you just see that wall of people, I believe I will act 16 or 17 again," said Flynn, who hopes to provide another highlight-reel moment for Phillipsburg on Sunday. "The next day I think I will feel about 45 or 50."

Tim Gadwell, a player for Easton, said, "I'm going to kiss the ground, and then I'm going to get up, and I'm going to listen to that crowd roar one more time. I can't wait."
The game will be played at 3 p.m. Sunday at Lafayette College's Fisher Stadium in Easton. Footage of the game will be available on http://www.missiong.com.
E-mail to a friend

All About New Jersey • Pennsylvania • Football