By Susan Candiotti and Ross Levitt
CNN





(CNN) -- No one will face criminal charges in the case of a 93-year-old Michigan man who froze to death this year after his utility company limited heat to his home for failing to pay his bills.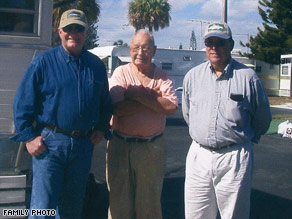 Schur, center, stands with his nephews Jerry, left, and William Walworth in Pompano Beach, Florida, in 2007.
"It's a horrible tragedy, what happened here," Bay County Prosecutor Kurt Asbury said. "It's obvious no one person can be criminally charged."
Asbury issued his summary of the case Thursday after a three-month investigation into Marvin Schur's death at his Bay City, Michigan, home.
The prosecutor acknowledged one could reasonably argue that many people were at fault, but he said he lacked evidence to prove gross, criminal negligence including an intent to cause harm.
The findings include new details of Schur's circumstances.
An autopsy revealed that Schur suffered from Alzheimer's disease. Investigators also found that his home furnace had not worked since October, about three months before his death, and that Schur was relying on electric space heaters to keep warm.
Investigators said it also appeared that Schur tried unsuccessfully to light a wood-burning stove in his basement.
Neighbors discovered his body in his home January 17. Authorities say the area's overnight temperatures dipped below zero for at least four nights.
Prosecutors confirmed that Schur had attached "sufficient cash" to his unpaid bills, which were found in his home at the time of his death. They said he suffered from memory loss and had had difficulty paying his bills dating to 2007.
The city-run utility put a limiter on Schur's furnace because of the unpaid bills. The limiter was tripped when it exceeded 10 amps, cutting off service.
Authorities found instructions on how to restart the limiter on Schur's kitchen counter. The utility gives its customers written instructions on how to temporarily restart the furnace until their case is pleaded.
Investigators described Schur, a widower, as "extremely independent." He apparently cared for himself but had little or no support system to check on him on a daily basis. He had no immediate family nearby, but neighbors would occasionally look in on him, authorities said.
Asbury said he was not aware of any plans for a civil suit.
The prosecutor also pointed out a factor that might have saved Schur's life: As CNN has reported, private utility companies in Michigan are prohibited from shutting down services for nonpayment during the winter.
Bay City's utility was exempt from that law because it is run by the city.
After Schur's death, city officials immediately stopped the practice of cutting service for nonpayment in the winter and also put a moratorium on installing limiters.
E-mail to a friend

All About Bay City