By Mike M. Ahlers
CNN





WASHINGTON (CNN) -- After getting pelted by criticism from everyone from airline passengers to federal accident investigators, the Federal Aviation Administration on Wednesday reversed course and said it will publicly reveal its records on bird strikes.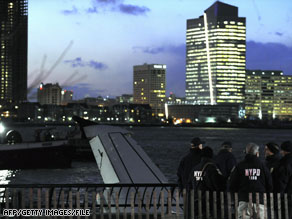 Bird strikes have sparked pubic interest since a US Airways plane was hit by a flock of geese in New York in January.
The FAA said it will make its entire bird-strike database available on a public Web site on Friday, and is withdrawing a proposal to keep certain data confidential. The FAA had argued that protecting certain information, such as the names of airlines and airports involved in bird mishaps, would encourage airlines to participate in the voluntary reporting program.
But critics, including the National Transportation Safety Board, said the FAA's secrecy was misguided. In a letter Wednesday, the NTSB said it strongly disagreed with the plan to restrict public access to the data.
"The board believes that withholding such information ... would deny independent researchers the ability to examine all available factors in the database and would make valid comparisons among airports and among some other entities impossible," wrote Mark Rosenker, acting chairman of the NTSB.
The NTSB has recommended requiring airlines to report wildlife strikes.
The FAA said portions of the database have been publicly available since the information was first collected in 1990. The FAA has removed a "very small amount of data" containing privacy information, such as personal phone numbers, it said.
"Over the next four months, the FAA will make significant improvements to the database to improve the search function and make it more user-friendly," the FAA said.
Interest in aviation bird strikes has been heightened by several recent incidents, most notably the January 15 incident in which a US Airways flight landed in New York's Hudson River after an encounter with a flock of Canada geese. All on board survived.
The NTSB says a bird strike may have preceded the crash of a Sikorsky helicopter near Morgan City, Louisiana, just 11 days earlier. The crash killed eight of the nine people aboard.
The database can be accessed starting Friday through http://wildlife-mitigation.tc.faa.gov/public_html/index.html
E-mail to a friend

All About U.S. National Transportation Safety Board • Federal Aviation Administration • Hudson River