(CNN) -- A Texas man has been charged with intoxication manslaughter in the Saturday drownings of four children who were in his car when it veered into a Houston bayou, police said Sunday.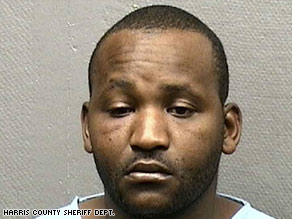 Four counts were filed against Chanton Jenkins, 32, of Houston, Texas.
Four counts were filed against Chanton Jenkins, 32, of Houston, Texas, according to Houston police spokesman Kese Smith.
A fifth child who was in the car, a 3-year-old girl, was missing Sunday and is believed to have drowned also, police said.
Jenkins was driving a Lincoln Town Car during a rainstorm with six children and his brother as passengers when it went into the Green Bayou on Saturday, police said. Jenkins, his brother and one child escaped.
Of the five who died or was missing, three were Jenkins' children, and the other two were friends of the family, Smith said. Jenkins also is the father of the surviving child, Smith said.
Jenkins failed a field-sobriety test at the scene of the crash and a blood test was taken, Smith said.
Jenkins' brother told police the car went into the bayou just after Jenkins completed a phone call from the car.
"The next thing the passenger knew, they were going down the embankment into the bayou," Smith said.

The children whose bodies were found were identified as a girl, 1, and three boys, ages 4, 6 and 7.

Watch effort to find the bodies »
The car was found in 9½ feet of water after a two-hour search. Police said the current was so swift that divers could not open the doors.
E-mail to a friend

All About Houston (Texas)