By Bob Greene
CNN Contributor






Editor's note: CNN Contributor Bob Greene is a bestselling author whose forthcoming book is "Late Edition: A Love Story."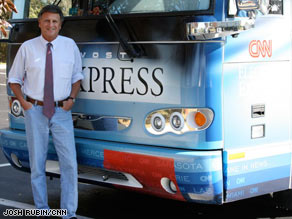 Bob Greene says the Monitor's conversion to online publishing has left a void in reading rooms.
(CNN) -- "We have to keep up with the world," said Laurel Selkin, in Rapid City, South Dakota. "This has always been a peaceful, loving haven, a place to sit and reflect and be able to think. That part won't change."
She is a volunteer at the Christian Science Reading Room in Rapid City. At her reading room, as at each of the more than 1,200 Christian Science Reading Rooms in the United States, there has been, in recent weeks, a rather significant change:
Visitors can no longer read the daily printed edition of the Christian Science Monitor. The Monitor -- an acclaimed general-interest newspaper, more than a century old, honored and respected for its serious and thoughtful national and international reporting -- made a decision that, given developments in the newspaper business, was probably inevitable: Its daily editions, as of the end of March, are online only. There is a weekly printed product with the feel of a news magazine, but during the week, the Monitor that you could hold in your hands is, after more than 100 years, gone.
"It's sad, I would have to say," said Sylvia Toren, librarian at the Vine Street Christian Science Reading Room in Cincinnati, Ohio. "People notice it's not here. We got them ready for it for weeks, but the loss still hit them when it happened. I think they already miss it -- there's something people have always been used to about sitting in the reading room with the paper in their hands. There's something personal about holding the paper and going through it."
If this were just a tale about the changing economies of newspapers, I probably wouldn't be moved to tell it. A pretty safe bet can be made that many newspapers will go online-only in the years ahead of us. And the Christian Science Monitor's web edition is excellent.
But this isn't so much about the Monitor itself as it is about the Christian Science Reading Rooms. For those of us who aren't members of the Christian Science faith, it's as if the reading rooms have been hiding in plain sight all our lives, a permanent part of the nation's cityscapes. They're always there, usually in American downtowns -- you see one of the storefronts, and if you squint, it can feel a little like 1955. You half-expect to see an S.S. Kresge variety store next door, and a typewriter repair shop, perhaps a magic-and-novelty stand.
"We feel that the Christian Science Reading Rooms give people sort of a reliance on the backbone of their city," said Chuck Ostler, an attendant at the reading room on Dodge Street in Omaha, Nebraska. "People who have been coming in lately miss the printed Monitor. It was cost-effective to make the daily paper online, but it does feel like we're missing something."
You don't have to be a Christian Scientist to duck into one of the reading rooms for some quiet time with a magazine or a book. I've stopped in more than a few of the reading rooms in my life as I've traveled, just because they're an oasis from the clamor of the world outside. The reading rooms are free and open to all -- they are stocked, of course, with religious literature, but the librarians don't push it on you. And every reading room has always had the latest editions of the Monitor available, with the news of the world.
"I think people just find us a nice, quiet place to sit down and read a little bit," said Tina Ligon, a volunteer at the reading room in Annapolis, Maryland. The last printed daily edition of the Monitor was the issue of Friday, March 27. "We haven't thrown out those last papers from the final weeks," she said. "We keep them back in a cabinet, for now."
One of the challenges the daily printed Monitor faced was that its distribution was by U.S. mail, which meant that, even though the reporters and editors at its Boston newsroom headquarters locked up the paper on deadline, its readers often didn't see it until days after the cover date. Which was something the librarians, and the visitors, at Christian Science Reading Rooms became accustomed to.
"I had read the printed Monitor for 40 years," said Jeanne Troutman, a volunteer at the reading room in East Lansing, Michigan. "Last week our mail carrier came in and said, 'I still don't have any Monitors to give you today.' We had to explain to him why he won't be bringing us the daily Monitor anymore."
The people who run those 1,200 reading rooms will offer the new printed weekly to their visitors, and also will recommend the daily online Monitor. But some of them worry that there is now a void, a little hole in the fabric of American life: You can no longer walk into one of those storefronts and leaf through the pages of a daily Monitor.
"I'm not a computer wizard," said Barbara Alder, the librarian at the reading room in Ardmore, Pennsylvania. It is still too early to know if readers who for decades have savored the daily printed Monitor will smoothly make the transition to the online-only version; right now, in the first month of the switch, they're being encouraged by the librarians to give it a try, even as those librarians understand that the daily Christian Science Monitor you could hold in your hands has been a part of some families' lives since 1908, and that no final curtain, however necessary, is ever easy, either for the actors or for the audiences.
The last editions of the daily Monitor are already becoming just a memory in all those tranquil reading rooms. "We always put the old ones out in the hall, in a rack for anyone who wanted them," said Beverly Morgan, at the reading room in Davenport, Iowa. "But I don't see them here, or on the counter. I guess they're all gone."
So the men and women who write and edit the daily Christian Science Monitor will continue to do it in our new world of digital journalism, and those 1,200 Christian Science Reading Rooms, in big towns and tiny, will continue to open their doors to anyone who wants to come in. "It's not as quiet here as in some reading rooms," said Nancy Hamilton, at the Christian Science Reading Room on Fountain Road in El Paso, Texas. "We're right behind the fire station, so we always hear the trucks when they go out on a call.
"But that's all right. The sirens remind us to pray for the firemen to come back safely."
The opinions expressed in this commentary are solely those of Bob Greene.
E-mail to a friend

All About The Christian Science Monitor • Newspapers