(CNN) -- Janie Lambert has lost one family member to gun violence and another to suicide. After all she's been through, she feels conflicted about whether or not gun control is the solution to gun violence.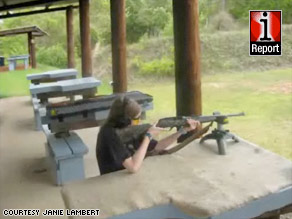 Janie Lambert was initially "horrified" when she learned that her granddaughter, whose father killed himself with a gun, was at a shooting range.
"I have no objection to people having guns if that's what they choose to do," she said. "But I want more background checks on potential gun owners' mental and physical health."
After a spate of recent shootings in places such as Binghamton, New York, and the upcoming 10th anniversary of the school shootings at Columbine High School in Littleton, Colorado, iReporters shared their views on gun control and gun violence.
A recent CNN/Opinion Research poll shows that only 39 percent of Americans favor stricter gun control laws, a drop from 50 percent in 2007.
Lambert's son-in-law committed suicide in 2005 to escape severe pain after a traumatic car accident. "I found out that he had a gun under his bed that anyone could reach," she said. That is the same gun he used to take his life.

Watch iReporters share their views on gun violence »
The Knoxville, Tennessee, resident feels that he should have never had that gun. "The gun was registered and it was legal, but mentally he should not have had it."
Years earlier, Lambert's grandfather, a police officer whom she never got to meet, was killed. "A waitress in a bar was arguing with her boss and she ended up shooting my grandfather," she said.
Lambert noted that the waitress was a minor and later claimed temporary insanity. "I know that laws have changed over time, but she just had a gun."
Lambert's thoughts on screening for mental health are similar to those of fellow iReporter Melissa Fazli.
"(The recent shootings) had nothing to do with gun control," she said. "It had to do with the poor mental health that Americans are in right now due to the economic situation."
Fazli believes that there should be a national effort to get those with mental health issues the help that they need through more services such as public service announcements and Web sites. iReport.com: Watch more from Fazli
Many iReporters, like gun owner David J. White of Washington, were not in favor of wide-ranging strict gun control laws.
"Regulate assault weapons if you will and feel free to force registration of all weapons," he said on iReport.com. "But I don't think it's fair, or right, for anyone to be left in a position where they can't defend themselves against someone who cannot behave themselves."
White points to the regulation of guns in Washington, which he calls an "abject failure." There were 143 gun-related murders there in 2007, compared with 135 in 1976, when a sweeping ban on handguns, struck down by the U.S. Supreme Court last year, was enacted. iReport.com: Watch White's video
Kevin Neugebauer of Katy, Texas, wants no further restrictions on guns whatsoever. He shared his thoughts, and a look at some of the guns in his collection, with the iReport.com community.
"All of these should be legal to law-abiding citizens," he said. "Criminals are going to get guns if you make them illegal or not. The only people who suffer are law-abiding citizens." iReport.com: Neugebauer shares his views, shows his guns
Jim Morrison of Brooklyn, New York, strongly disagrees. "The assault weapons ban allowing high powered assault rifles to go on sale has expired, and these guns have found their way onto the streets again," he said. "It's time for us to realize that more guns on our streets do not make us safer."
Morrison acknowledges limited Second Amendment rights, but is in favor of "common sense and reasonable restrictions." iReport.com: Watch Morrison's video
Lambert has been reflective lately about guns and her past because of a recent incident which upset her greatly when she first heard about it. On a recent trip to Georgia to visit relatives, Lambert's granddaughter, over whom she has legal guardianship, took a trip to the gun range with her uncle. Her granddaughter's father is the son-in-law who committed suicide.
"I was terrified when I found out," she said. "I'm really surprised that my granddaughter would even handle the gun at all." iReport.com: Read Lambert's story
She has strongly believed that members of her immediate family should have nothing to do with guns. Her husband is retired from the military and knows how to handle a gun, but neither he nor any of her children are gun owners.
After speaking with her granddaughter's uncle, and taking a look at photos of her granddaughter at the range, her views have shifted somewhat.
"I realized that the children do need to be educated," she said. "That's the key to most things: education and not fear."
However, her views on screening potential gun owners for their mental and physical health remain the same.
"I think that people should be screened better like my son-in-law," she said.

She also feels the same about personal gun use for any reason.
"I don't believe we will ever own a gun."
E-mail to a friend