NEW YORK (CNN) -- Timothy Dolan was installed Wednesday as archbishop of New York in a ceremony in the city's St. Patrick's Cathedral.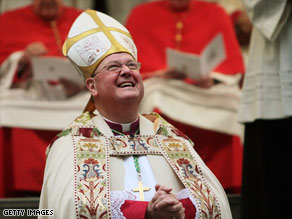 Archbishop Timothy Dolan looks to the sky during an evening prayer service Tuesday in New York.
Once officially installed, the former archbishop of Milwaukee, Wisconsin, embraced his predecessor, Cardinal Edward Egan, 77, who is retiring as an archbishop.
In his homily, Dolan spoke of Easter's message of rebirth. "The risen Christ has been and is very much alive here (in the New York archdiocese). Can I count some of the ways," he said before naming the church's priests and the city's faithful as two of several examples.
Dolan alluded to abortion in his remarks, noting the church's message of embracing and protecting "the dignity of every human person (and) the sanctity of human life," including, "the tiny baby in the womb."
The remark drew a standing ovation.
Earlier, he elicited laughs from those seated within the cathedral when he addressed his mother.
"I am really relieved to see Mom," he said. "We were a little afraid this morning that she might not make it; she found out there was a sale on at Macy's."
At a news conference earlier Wednesday, Dolan, 59, acknowledged that his new pulpit carries a high profile, but he resolved to remain the "same kind of priest and preacher" he's been for three decades.
"The pulpit of the archbishop of New York does have, perhaps, an enhanced prominence that might take some getting used to on my part," he told reporters.
"I'm just going to be the same kind of priest and preacher that I've been for 33 happy years."
The Vatican announced in February that Dolan would become the archbishop of New York.
Egan had led the New York archdiocese since 2000. He became a cardinal a year later.
Dolan was named archbishop of Milwaukee by Pope John Paul II on June 25, 2002, according to his biography on the Milwaukee archdiocese's Web site. He was installed as Milwaukee's 10th archbishop on August 28, 2002, at the Cathedral of St. John the Evangelist.
Dolan served in Rome from 1994 to 2001 before returning to the United States to become Auxiliary Bishop of St. Louis, Missouri.
E-mail to a friend

All About The Roman Catholic Church • New York City • Cardinal Edward Egan • Milwaukee