By Mike Mount
CNN Senior Pentagon Producer





WASHINGTON (CNN) -- The commander of a U.S. Navy submarine that collided with another Navy ship last month has been relieved of duty, according to a U.S. Navy statement issued Tuesday.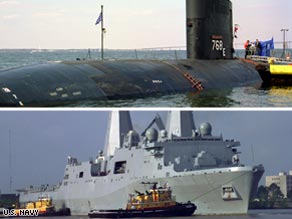 The submarine USS Hartford and amphibious ship USS New Orleans are shown in Navy photos.
U.S. Navy Cmdr. Ryan Brookhart was relieved by his superior officer, who cited a loss of confidence in his ability to command, according to the statement.
While the investigation into the collision is still ongoing, Brookhart's commander, Rear Adm. Michael J. Connor, decided there was enough evidence to remove him from his leadership position.
Brookhart has been reassigned to administrative duty in Bahrain.
Cmdr. Chris Harkins, deputy commander of Submarine Squadron Eight, based in Norfolk, Virginia, has taken over as commander of the USS Hartford, according to Navy officials.
Brookhart was in command of the Hartford, a nuclear-powered submarine, when it collided with the USS New Orleans (LPD 18) on March 20 in the Strait of Hormuz.
Fifteen sailors aboard the Hartford were slightly hurt in the incident, and both vessels suffered extensive damage, according to U.S. Navy officials.
The submarine also punched a hole in the fuel tank of the New Orleans, causing thousands of gallons of fuel to pour from the ship.
When the incident occurred, both vessels were headed to ports in the Persian Gulf to stock up on provisions and allow for some recreation, Navy officials said.
There were about 200 sailors in the sub and 1,000 sailors and Marines aboard the ship.
The Strait of Hormuz is between the United Arab Emirates and Iran, linking the Gulf of Oman and the Persian Gulf. It is heavily used by oil tankers.
Both vessels are on regularly scheduled deployments to the U.S. Navy Central Command area of responsibility and conduct Maritime Security Operations.
E-mail to a friend

All About Strait of Hormuz • Bahrain • U.S. Navy