By Bob Greene
CNN Contributor






Editor's note: CNN Contributor Bob Greene is a bestselling author whose current book is "When We Get to Surf City: A Journey Through America in Pursuit of Rock and Roll, Friendship, and Dreams."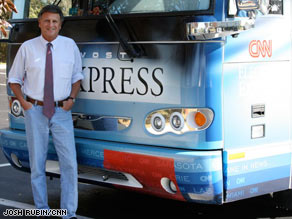 Bob Greene says Americans no longer are moved to celebrate their cars in song.
(CNN) -- This is undoubtedly way too unsophisticated a solution to the troubles in the American auto industry, but it has to be better than bankruptcy or federal edicts:
How about manufacturing cars that make people want to sing?
For many years, that was a factory-installed component of America's love affair with Detroit, Michigan. People were wild enough about their cars that singers and bands knew they could make hit records by singing of the joy of being behind the wheel.
"She's real fine, my 409. ..."
When the Beach Boys sang those words in 1962, they knew the potential audience would be enormous, because there was nothing more dear to the American public than the experience of driving their brawny cars, and those brawny cars came from one brawny place: the Motor City.
Which is what is so melancholy about the present-day developments in the car industry. It's not just the dwindling sales faced by the Big Three automakers; it's not just the indignity of having to consider taking bailout money from Washington.
It's that the joy itself -- the joy that was worth singing about -- seems to be gone.
When Dinah Shore presented her show each week in the early years of television, the ode she sang about her sponsor was corny, sure, but it was an accurate reflection of how her post-World War II viewers felt about their cars and about the freedom of the open road:
"See the U.S.A, in your Chevrolet / America is asking you to call. ..."
Don't Miss
It wasn't just the brand she was promoting; it was the country's ardent romance with driving, the conviction that the values of the nation and the values of the highway were one and the same:
"Drive your Chevrolet, through the U.S.A. / America's the greatest land of all. ..."
Tempted to smirk? All I can tell you is what I have seen for the past 15 years, traveling the country on summer weekends as part of my unlikely side avocation, singing backup with the Jan and Dean band. We have gazed out from stages from coast to coast, and as we sing the car songs -- "Shut Down," "Little Deuce Coupe," "Little GTO" -- what we witness in front of us are thousands of people, young and old, who know every single word and who every night are on their feet and shouting along:
"Well, I'm not braggin', babe, so don't put me down / But I've got the fastest set of wheels in town. ..."
They're wishing for something. Today, when people think about the auto industry, it's hardly with a song in their hearts (with the possible exception of John Rich's current hit "Shuttin' Detroit Down," which expresses anger at the price that the people who build the cars are having to pay for Wall Street's mistakes).
What made the music of the road go away? Probably a confluence of factors: from something as complex as emission-control legislation, which made cars seem less swaggering, to something as mundane as increasingly interminable rush-hour traffic jams, which made climbing behind the wheel as enticing as a visit to an oral surgeon.
But singers who know their audiences understand that the flame still burns. When country singer Alan Jackson wanted to connect with the departed dreams of his listeners, he recorded a new version of a car song that was released in 1949. "Mercury Blues" has lost none of its power over the decades:
"If I had money, tell you what I'd do / Go downtown and buy a Mercury or two. ...
The car songs were about us as much as they were about what we drove. Country singer Dan Seals died in Nashville last month; it is impossible to listen to his 1984 version of "My Old Yellow Car" and not reflect on something now vanished:
"An American boy with his hands on the wheel / Of a dream that was made of American steel. ..."
Seals' voice was filled with longing for that intangible extra those Detroit automakers routinely gave us, something that endured even when the autos grew old:
"The floorboard was patched up with paper and tar / But I really was something in my old yellow car."
On Monday night, as Michigan State played North Carolina for the national collegiate basketball championship, many people said that Detroit's, and Michigan's, hopes were tied up in the outcome. The contest, as luck would have it, was being played in Detroit.
As Michigan State fell behind, I muted the volume on my television set. It had been unrealistic to believe a home-state victory would really change anything; even if Michigan State had prevailed, the sun was going to rise the next morning over a city in continuing pain.
What I did, as I watched the now-silent game, was put on a song by Bob Seger, an album cut that was never as famous as his biggest hits but that seemed right for our current times. The basketball game was being played at Ford Field; Seger's song, "Makin' Thunderbirds," is the only one I'm aware of that salutes the fierce pride of working on a long-gone Ford assembly line:
"The big line moved one mile an hour, so loud it really hurt. ..."
The song was a heartfelt acknowledgment of something that must have seemed so simple at the time, one of those things that aren't fully missed until they are just a memory down the road:
"They were long and low and sleek and fast, they were all you've ever heard / We were young and strong, we were makin' Thunderbirds."
Washington and Detroit are constantly conferring these days, or so we are told; soon enough they will work something out, and the auto industry will or won't be salvaged.
We can always hope.
But it's nothing to sing about.
The opinions expressed in this column are solely those of Bob Greene.
E-mail to a friend

All About Cars and Car Design • Muscle Cars • John Rich