PITTSBURGH, Pennsylvania (CNN) -- A car struck worshippers after a Good Friday church service in Pennsylvania, killing one woman and injuring four others, an official said.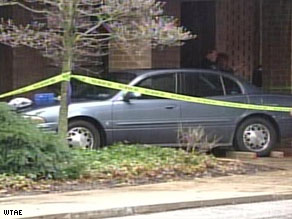 A car driven by a retired priest crashed into a crowd Friday at St. Maurice Church, killing a woman.
Madelyn Romell, 89, whose leg was severed in the accident, was alert, but died later at an area hospital, said Ray Eller, the mayor of Forest Hills, a suburb of Pittsburgh.
Four other people were hurt, but their injuries are not considered life-threatening.
Worshippers had gathered on St. Maurice Church's portico at around 2:30 p.m. to wait for rides, when the driver of the car plowed into the crowd, Eller said.
The driver, who is a retired priest, was at the church to help with Easter services, according to Eller. He was not injured, CNN affiliate WTAE said.
Don't Miss
"Some people were hit by the car; some people were hit by other people," said Sgt. Charles Williams of the Forest Hills Police Department.
Romell, a local resident, attended Mass daily, Eller said. WTAE reports Romell's husband was in the crowd, but he was not injured.
Authorities said the accident is under investigation.
E-mail to a friend