By Monica Trevino
CNN





(CNN) -- More than 20 of Detroit, Michigan's public schools may close and 600 teachers will be laid off in an attempt to reduce a projected $303 million deficit, the state-appointed financial manager of the schools said Thursday.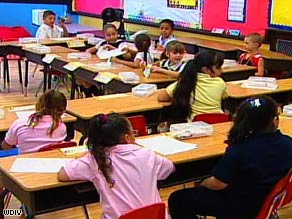 Up to 7,500 of Detroit's 95,000 public school students could be affected by the planned closures.
"The bottom line is that we have too many buildings with too few students," Detroit Public Schools' emergency financial manager, Robert C. Bobb, said at a news conference. "The reality is that schoolhouse buildings will have to be closed and consolidated."
Bobb said he welcomed feedback from parents in town hall meetings and other forums, and he said he expected to make a final decision on the closings of 23 schools by May 8.
In a phone interview with CNN, he said the school system's facilities no longer reflected the needs of enrollment.
"We were a school system with well over 140,000 students in 1999, and our school enrollment is now 95,000 students," he said. "So these decisions were difficult decisions that have to be made."

Watch Bobb explain why the schools may be shut down »
According to the Detroit Free Press, the closings could affect up to 7,500 students.
Bobb also said that 600 teachers would get layoff notices in the mail. The process, he said, is "not unusual."

"We expect that many of those teachers will be called back when we begin the process of right-sizing the school district this summer," Bobb said.
The district has 194 schools and 5,700 certified teachers.
E-mail to a friend

All About Detroit • Education Policy