WASHINGTON (CNN) -- The pilot of a small Cessna 172 aircraft reported stolen from a Canadian flight school has been captured, authorities said.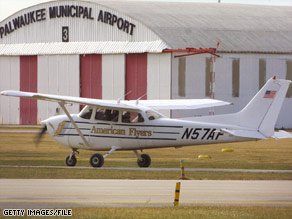 The pilot was flying a plane similar to this one -- a Cessna 172 -- before he landed in Missouri.
The pilot reportedly stole a small Cessna 172 aircraft from a Canadian flight school, flew hundreds of miles across the Midwest, landed on a dirt road in Missouri late Monday and took off on foot, federal officials said.
Federal, state and local authorities launched a manhunt for the pilot, who was identified by the FBI as Adam Leon, 31, a native of Turkey who became a Canadian citizen last year, according to FBI spokesman Richard Kolko. He was formerly known as Yavuz Berke, though officials did not indicate a reason for the name change.
He was taken into custody at an Ellsinore grocery story after a brief manhunt, according to Missouri state police and the Royal Canadian Mounted Police.
A federal law enforcement source said the pilot parked the plane under what appeared to be a bridge or culvert, apparently in an attempt to hide it.
The plane had been intercepted and tracked by U.S. military aircraft as it flew from Canada into U.S. airspace and meandered southward for several hours before landing, a Department of Homeland Security spokesman said.
It landed in the town of Ellsinore, population 360, in southern Missouri, a dispatcher with the Carter County Sheriff's Office said.
A spokesman for the North American Aerospace Defense Command (NORAD) said the pilot flew "erratically" over the course of the afternoon, at time reaching 14,000 feet in altitude, then dropping as low as 3,000 feet.
The Cessna departed the school in Ontario at about 3 p.m. ET and flew over Lake Superior less than half an hour later, according to NORAD officials. F-16 fighter jets intercepted the pilot near Michigan's upper peninsula border with Wisconsin at 4:43 p.m., and tracked the Cessna until its safe landing.
The NORAD spokesman, Mike Kucharek, said military pilots who intercepted the Cessna had tried repeatedly to get the pilot's attention and at one point, the pilot appeared to acknowledge that he saw the other aircraft.
"He looked at them," Kucharek said.
But the pilot had not communicated with NORAD or the Federal Aviation Administration, Kucharek added later in the evening. At 9:20 p.m., the pilot was believed to have had roughly 30 minutes of fuel left, Kucharek said.
"We don't want to suppose the motive of the individual," Kucharek told CNN's "Anderson Cooper 360" after the landing. "But it certainly made a day for the professional pilots that were flying these missions and a very serious situation from a NORAD perspective."
Officials allowed the pilot "to play his hand" because they "[didn't] want to provoke the situation," Kucharek said.
A federal law enforcement official told CNN the pilot is a naturalized Canadian citizen, but declined to give his name or country of origin. The source said the pilot was a flight school student for a "brief" period and only clocked a few hours of flight time.
Canadian officials have received some information that the pilot is "not a happy individual," the official said.
The Cessna departed at about 3 p.m. ET and flew over Lake Superior less than half an hour later, according to NORAD officials. F-16 fighter jets intercepted the pilot near Michigan's upper peninsula border with Wisconsin at 4:43 p.m., and have tracked the Cessna since.
Earlier in the evening, the Wisconsin National Guard deployed two F-16s of its own in an attempt to get the pilot to establish communications with FAA air traffic controllers.
The state capitol in Madison, Wisconsin, was evacuated for less than an hour as a precaution.
FAA spokeswoman Laura Brown said the plane was reportedly stolen from a flight school in Thunder Bay, Canada, and the pilot had been identified as a student at the flight school.
Both Lt. Cmdr. Gary Ross of NORAD and Brown of the FAA said the 14,000-feet altitude is above the level at which the FAA requires use of oxygen. Brown said it was not clear whether the Cessna had supplemental oxygen on board.
Ross says the plane is a long-range version of a Cessna 172. It was fully fueled, giving it about seven hours of flying time.
Ross said if NORAD officials believe the aircraft poses a threat, "we take seriously any intent to harm any of our citizens or critical infrastructure."
He added that "all options are on the table although we continue to move towards a resolution that doesn't call for [lethal force]."

E-mail to a friend

CNN's Jeanne Meserve, Adam Levine and Mike Ahlers contributed to this report.
All About Cessna Aircraft Company • Federal Aviation Administration