By Elaine Quijano
CNN





GLEN BURNIE, Maryland (CNN) -- At his GM dealership in suburban Washington, Maury Wilkins exudes calm as he gears up for an enormous challenge: protecting his decades-old family business.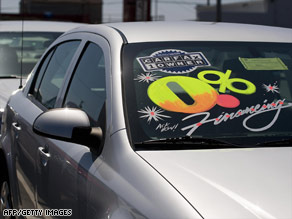 Zero-percent financing is one way Maury Wilkins and other GM dealers are trying to lure new buyers.
With General Motors teetering on the edge of bankruptcy, Wilkins says luring customers back into his showroom boils down to two factors. "Everything is confidence and perception," Wilkins told CNN in a recent interview.
Confidence in the beleaguered General Motors Corp. is exactly what President Obama hopes to restore.
Even as he forced out GM's CEO Rick Wagoner in late March, the president also made an extraordinary pledge.
"If you buy a car from Chrysler or General Motors, you will be able to get your car serviced and repaired, just like always," Obama announced from the White House a week ago.
"Starting today, the United States government will stand behind your warranty," the president said.
Some critics have blasted that promise as untenable.
"That's pie-in-the-sky," says William Holstein, author of "Why GM Matters: Inside the Race to Transform an American Icon."
Don't Miss
"If General Motors goes away, how is the government ever going to maintain the network of suppliers?" asks Holstein. Noting there are "four or five thousand moving parts in a vehicle," Holstein wonders, "How is the government going to maintain this incredible infrastructure of suppliers to make sure that every part, every body panel is available for years after General Motors goes away?... It's impossible."
GM dealer Wilkins sees the government's guarantee as a consumer confidence-builder. Still, he's concerned about slumping sales figures. Nationwide, auto sales dropped 37 percent in March compared with a year ago. Wilkins' business was not immune.
Though he says he's not in crisis mode, he does have contingency plans.

Watch report from CNN's Elaine Quijano on Wilkins »
"Our business model is 'what if, what if, what if,'" Wilkins said, adding, "if all these things are outside of our control, how do we make sure that we maintain our profitability?"
That means extra attention to facets of his business besides new-car sales, including used-car sales, service and parts, and collision repair.
Already, Wilkins believes car sales have turned a corner. He says February was one of his dealership's best months. It was the result, he believes, of business adjustments he made, including altering inventory stocks.
Wilkins also says credit for car buyers is finally beginning to loosen.
Potential customer Jim Lally says that's what drew him into the showroom the day CNN visited.

"I heard about the zero-percent financing and the exceptional deals that are being offered right now," Lally said.
While Lally hadn't decided on whether to buy a GM, his visit was another reason for Wilkins' cautious optimism, as his business tries to weather the economic storm.

E-mail to a friend

All About General Motors Corporation • Barack Obama