From Amanda O'Donnell
CNN





(CNN) -- Officials will remove oil from two massive storage tanks near the base of erupting Mount Redoubt in Alaska, a spokesman said Friday.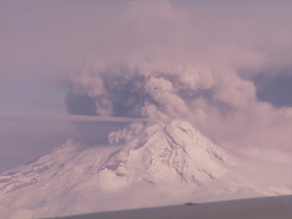 Much of the oil in two massive tanks near rumbling Mount Redoubt will be removed, officials said Friday.
As the volcano continues to spew ash across Alaska's Cook Inlet, U.S. Coast Guard officials said they will begin to transfer oil from the Drift River facility to get to a "safe" level.
Coast Guard Officer Sara Francis said the oil is being reduced to protect against "the potential threat by the volcanic activity" and the potential effect on the environment near the storage locations.
Francis said the workers will remove about 75 percent of the 6.3 million gallons of oil in the tanks.
Workers may also work on other facilities upstream, Francis said.
The Mount Redoubt volcano started erupting on March 22, shooting ash up to 65,000 feet in air, dusting parts of the state and stopping air traffic in the area.
Don't Miss
The 10,197-foot peak is about 100 miles southwest of Anchorage, the most populous city in Alaska.
Mount Redoubt last erupted nearly 20 years ago, in December 1989. That eruption lasted until April 1990.

E-mail to a friend

All About Mount Redoubt • Alaska