(CNN) -- The Environmental Protection Agency will monitor 62 schools across the nation to determine whether the air around them contains toxic pollutants, the agency said Tuesday.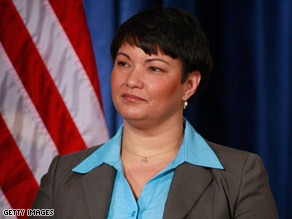 EPA Administrator Lisa Jackson, in a December photo, announced a plan to monitor the air around 62 schools.
"As a mother, I understand that concerned parents deserve this information as quickly as we can gather and analyze it," EPA Administrator Lisa P. Jackson said in a written statement. "EPA, state, and local officials are mobilizing to determine where elevated levels of toxics pose a threat, so that we can take swift action to protect our children at their schools."
Schools in 22 states were on the agency's list. Texas and Ohio had the most, with seven each, the EPA said. Pennsylvania had six.
The agency said it chose the schools after examining the best information available on air pollution near the schools; information on wind direction and speed; information from state and local air agencies; and the results of a recent newspaper analysis.
USA TODAY reported in December that the air outside 435 schools appeared to be more toxic than the air outside an Ohio school that was closed in 2005 because of an unacceptable air quality.
The newspaper based its findings on a government computer simulation, it said.
The government also used computer modeling to help choose the 62 schools.
Don't Miss
The schools include those in major cities -- Los Angeles, California; Seattle, Washington; and Chicago, Illinois -- as well as smaller towns -- McKees Rocks, Pennsylvania; Story City, Iowa; and Tarrant City, Alabama. The schools range from elementary to high schools.
The agency said it was redirecting $2.25 million from community air monitoring grants to fund the plan.
The monitoring will be phased over the next three months and will continue for 60 days at each school, EPA said.
Two types of pollutants in the air will be measured: those in gas form, including benzene, which U.S. authorities have declared a known carcinogen; and those in particle form, including metals, EPA said.
"The pollutants monitored will vary by school, based on the best available information about the pollution sources in the area," the agency said.
The agency has already identified the pollutants to be monitored at each school; they are included in the released list.
After the monitoring, EPA will analyze the results and project the potential long-term health concerns related to cancer and respiratory and neurological effects, the agency said.
"If potential health concerns are high, EPA will take steps to mitigate the pollution causing the problems," the agency said.
It said it would make the results public.
E-mail to a friend

All About U.S. Environmental Protection Agency • Clean Air Policy