(CNN) -- U.S. nonprofits are straining under the weight of the recession, with many expecting to sustain permanent financial damage, a survey shows.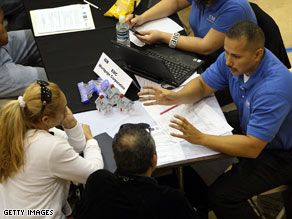 Most nonprofits anticipate the recession will have a long-term or permanent negative effect, according to a survey.
The survey by Nonprofit Finance Fund focused on 986 nonprofits, including "lifeline" organizations that many depend on for basics such as food and shelter.
Only 16 percent of the nonprofits expect to cover their operating expenses this year, while 52 percent anticipate the recession will have a long-term or permanent negative effect on their organizations.
"The survey reveals the precarious state of a sector that is continually asked to do more with less," Clara Miller, president of NFF, said in a statement.
"Lifeline organizations, 91 percent of which focus on serving vulnerable populations, simply will not be around to provide critical services if we continue with current practices," she said.
Almost all -- 93 percent -- expect an increase in demand for services this year.
The organizations said they are taking steps to adjust, including cutting programs, reducing salaries and delaying paying vendors.
"Like many other nonprofits, we have had to make cuts that directly and negatively affect the people we serve," said survey respondent Felix Rouse, chief executive officer of the Boys & Girls Clubs of Newark. "We have temporarily closed one of our five sites. We have reduced our program offerings from 47 to 30, and have had to lay off about 25 employees (28 percent of the workforce)."
The Nonprofit Finance Fund, which provides loans and access to grants to nonprofits, urged organizations to team up with those who fund them to find innovative ways to address the challenges and continue serving the needy.
"This recession is forcing the issue of how to better invest in what works for the benefit of society," Miller said.
E-mail to a friend

All About Boys & Girls Clubs of America