(CNN) -- IBM's reported plans to lay off thousands of U.S. workers and outsource many of those jobs to India, even as the company angles for billions in stimulus money, doesn't sit well with employee rights advocates.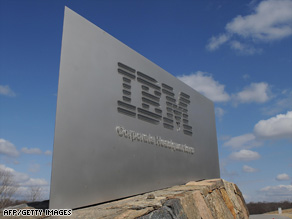 Business Week reports that IBM's workforce increased from 386,558 in 2007 to 398,000 at the end of 2008.
IBM employees are being dealt a double blow, said Lee Conrad, national coordinator for Alliance@IBM, a pro-union group that has been fighting IBM's outsourcing for years.
"We're outraged that jobs cuts are happening in the U.S. and the work is being shifted offshore," Conrad said. "This comes at the same time IBM has its hand out for stimulus money. This to us is totally unacceptable."
IBM wants a share of the money in President Obama's American Recovery and Reinvestment Act for projects updating power grids, creating electronic health care records and furthering the use of broadband.
"In the research we've done working with the transition team, we know that $30 billion could create 1 million jobs in the next 12 months," IBM CEO Sam Palmisano said in January.

Watch how IBM hopes to benefit from the stimulus »
The problem is where those jobs would be, said Ron Hira, a professor of public policy at the Rochester Institute of Technology.
"This is really a question of policy," Hira said. "IBM is doing what's in its best interest, and in this case it's not in the best interest of America. And that's why you need policymakers to step in to ensure that this money gets spent to create American jobs."

Watch the outcry generated by IBM »
IBM has not responded to multiple requests for comment from CNN after the Wall Street Journal's report that the IT giant would be shipping 5,000 U.S. jobs overseas.
"We have no problem with job creation in other countries," Conrad said. "We have no problem with global expansion. We realize IBM is a global company and has been for many years. But this is different. This is cutting jobs in the U.S. and shifting the work offshore. This isn't job creation. It's job shifting."
According to Business Week, IBM has indeed been shifting jobs. The magazine reported that the company's workforce went up from 386,558 at the end of 2007 to 398,000 at the end of 2008. But U.S. employment fell from 121,000 to 115,000 during the same time.
Hira, author of the book "Outsourcing America," said it's not just IBM moving jobs out of the United States.

"The problem here, though, is that these companies have an inordinate influence over the political process," he said. "They have a huge, disproportionate amount of power, political power, and can influence the process."
For that reason, he said, "you really do need the American public to sort of stand up and say, 'Wait a second. This is just not right.' ... I certainly hope that there's a backlash, because there should be. This is bad for America."
E-mail to a friend

CNN's Mary Snow, Jennifer Rizzo and Vivienne Foley contributed to this report.
All About IBM Corporation • Economic Stimulus • Barack Obama