WASHINGTON (CNN) -- The U.S. Mint will begin accepting orders Thursday for the first coin to feature readable Braille.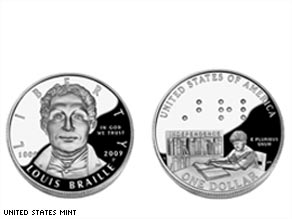 The coin's "heads" side features a portrait of Louis Braille; the "tails" side features a boy reading a book in Braille.
The 2009 Louis Braille Bicentennial Silver Dollar commemorates the 200th birthday of Louis Braille, inventor of the Braille system of reading and writing used by the blind.
The National Federation of the Blind can receive surcharges from sales of the coins to further its programs to promote Braille literacy, the U.S. Mint said in a news release.
Mintage of the coin, which is 90 percent silver, will be limited to 400,000, the Mint said. The coin will be available in proof and uncirculated versions.
An introductory sales period will last through April 27, after which regular prices will go into effect, the Mint said. Introductory prices will range from $31.95 to $37.95. Regular prices will be $33.95 to $41.95.
The "heads" side of the coin features a portrait of Louis Braille and the inscriptions "Liberty," "In God We Trust," "Louis Braille," "1809" and "2009."
The "tails" side depicts a child reading a book in Braille. The word Braille -- abbreviated as "BRL" in Braille -- is depicted in the upper part of the coin and the word "Independence" is featured on a bookshelf behind the child. The back side of the coin also has the inscriptions "United States of America," "One Dollar" and "E Pluribus Unum."
More information is available at the U.S. Mint's web site www.usmint.gov or by calling 1-800-USA-MINT (872-6468).
E-mail to a friend

All About Currency Markets • Coin Collecting • National Federation of the Blind