From Chris Kokenes
CNN





NEW YORK (CNN) -- One of the earliest photographs in existence is expected to fetch as much as $70,000 when it is auctioned off later this month at Sotheby's auction house in New York.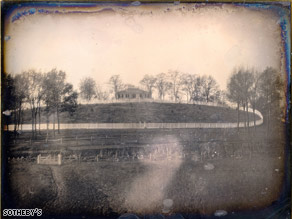 The daguerreotype shows a New York country estate on a road referred to as a continuation of Broadway.
A half-plate daguerreotype dating from 1848 shows a country estate in Manhattan on what was then known as old Bloomingdale Road and referred to as "a continuation of Broadway."
In the foreground of the 5.5-by-4-inch, black and white daguerreotype, a dirt road leads to an entry gate that surrounds the grounds.
A home sits perched above what appears to be a fenced-in pasture or grazing field surrounded by evergreens.

See the photo up-close »

The use of daguerreotype, which was invented by French artist Louis-Jacques-Mandé Daguerre, was common in the 1840s and 1850s, according to Daguerre.org.
To create a daguerreotype, the image is exposed directly onto a polished surface of silver with a coating of silver halide and particles deposited by vapor, giving it a mirror-like, reflective finish.
E-mail to a friend

All About Sotheby's Holdings Inc. • New York City