(CNN) -- John Hope Franklin, a revered historian and scholar on issues of race and the South, has died, Duke University said Wednesday.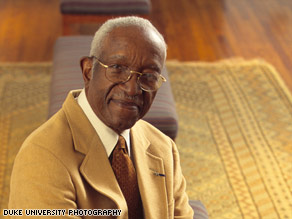 John Hope Franklin, a revered historian and scholar on issues of race and the South, has died,
He was 94.
Franklin, an Oklahoma native, was the first black department chairman at Duke and is the author of "From Slavery to Freedom: A History of African-Americans," a groundbreaking tome written in 1947 and still considered a pre-eminent chronicle of the black experience in the United States.
He served as an adviser to presidents and worked as a researcher who helped win the Supreme Court's historic 1954 Brown vs. Board of Education ruling, which opened up public education to black students.
Franklin was largely responsible for creating the academic field of African-American studies, Duke President Richard H. Brodhead said in a written statement.
"John Hope Franklin lived for nearly a century and helped define that century," said Brodhead. "A towering historian, he led the recognition that African-American history and American history are one.
"With his grasp of the past, he spent a lifetime building a future of inclusiveness, fairness and equality. Duke has lost a great citizen and a great friend."
The grandson of a slave, "John Hope," as he was known to friends, often chronicled his own hardships in his work.
He once said that, on the evening before he was to receive the Presidential Medal of Freedom from President Bill Clinton in 1995, a woman at a club asked him to get her coat. Around the same time, Franklin said, a man at a hotel gave him his car keys and told him to get his car.
"I patiently explained to him that I was a guest in the hotel, as I presumed he was, and I had no idea where his automobile was," Franklin said during a 2005 speech at an event celebrating his 90th birthday. "And, in any case, I was retired."
President Barack Obama on Wednesday credited Franklin with helping make sense of the American experience.
"Because of the life John Hope Franklin lived, the public service he rendered, and the scholarship that was the mark of his distinguished career, we all have a richer understanding of who we are as Americans and our journey as a people," Obama said in a written statement. "Dr. Franklin will be deeply missed, but his legacy is one that will surely endure."
Franklin graduated from historically black Fisk University -- after being denied entry into the University of Oklahoma because of his race -- and received a doctorate from Harvard University.
In 1997 he was appointed chairman of Clinton's seven-member advisory board on race.
Franklin summarized his own career in a 2002 statement to the American Academy of Arts and Sciences.
"More than 60 years ago, I began the task of trying to write a new kind of Southern History. It would be broad in its reach, tolerant in its judgments of Southerners, and comprehensive in its inclusion of everyone who lived in the region," he wrote.
"[T]he long, tragic history of the continuing black-white conflict compelled me to focus on the struggle that has affected the lives of the vast majority of people in the United States. ... Looking back, I can plead guilty of having provided only a sketch of the work I laid out for myself."
E-mail to a friend

All About Racial Issues • Civil Rights • African-American Issues