By Sally Holland
CNN





WASHINGTON (CNN) -- Teachers in the United States are contracted to work more hours than their counterparts in other Group of Eight countries, according to a report released Wednesday by the U.S. Department of Education.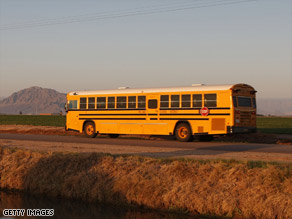 U.S. fourth-graders rank in the middle in reading and math among their G-8 counterparts, a report finds.
But based on data from 2006, the researchers found that even though teachers in the United States were contracted to teach an average of 1,080 hours during the school year, they actually worked less than teachers in Japan and Germany, when working time was defined to include work-related activities in addition to classroom teaching.
The Group of Eight, or G-8, includes Canada, France, Germany, Italy, Japan, Russia, the United Kingdom and the United States.
Longer school days and school years are part of President Obama's strategy to improve the United States' education system.
Teachers in Germany are paid more than their counterparts in the other seven countries at the start of their careers, followed closely by teachers in the United States, the report says.
France and Italy ranked lowest in starting salaries.
Don't Miss
As for academic performance, Russian fourth-graders scored highest in reading literacy, the report says, and Japanese fourth- and eighth-graders outperformed the others in mathematics.
As for science, Japan, the United Kingdom and Russia were together at the top at the fourth-grade level. By eighth grade, Japan had pulled ahead of the pack.
The academic ratings are based on numbers from 2006 and 2007.
Fourth-graders in the United States ranked in the middle in reading and math, but on the low end of the scale in science, according to the report.
The report, "Comparative Indicators of Education in the United States and Other G-8 Countries: 2009," was put together by the National Center for Education Statistics.
E-mail to a friend

All About G-8 • Education • U.S. Department of Education