From Mike Mount
CNN Pentagon Producer





WASHINGTON (CNN) -- An Air Force F-22A fighter jet crashed Wednesday near Edwards Air Force Base in California, killing the test pilot, the Air Force said.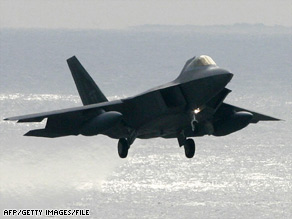 An F-22A fighter jet similar to this one crashed Wednesday during a test mission in California.
The single-seater crashed about 10:30 a.m. (1:30 p.m. ET) for unknown reasons, Air Force officials said.
Lockheed Martin said the test pilot, David Cooley, 49, of Palmdale, California, joined the company in 2003 and was a 21-year veteran of the U.S. Air Force.
The fighter was on a test mission when it crashed about 35 miles northeast of Edwards AFB, where it was stationed, the Air Force said in a news release.
At $150 million apiece, the F-22A is the most expensive Air Force fighter.
In 2004, an F-22 Raptor crashed on a training mission in the Nevada desert. The pilot ejected and was not hurt, though the jet was destroyed.
The plane was designed in the 1980s to provide a stealthy method to enter Soviet air space and strike Soviet bombers if the USSR attempted a nuclear strike.
Once the Cold War ended, the Air Force found a new mission for the F-22 as a long-range fighter with a sophisticated stealth design and state-of-the-art equipment that no other plane could rival.
However, the rising cost of the plane and numerous design and software problems threatened the program, which was almost eliminated by Congress.
In the end, the aircraft survived, and most of the problems were fixed -- except for the price tag, which forced the Air Force to buy fewer aircraft.

E-mail to a friend

All About Edwards Air Force Base • U.S. Air Force Activities