(CNN) -- Social and economic gaps between whites and blacks persist in the United States despite an atmosphere that led to the election of President Obama, an Urban League report said.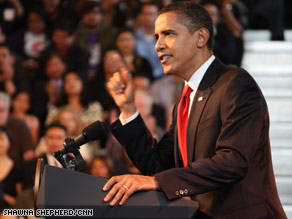 Despite hope ushered in by President Obama's election, racial divides persist, a report says.
Blacks remain twice as likely to be unemployed, three times more likely to live in poverty and more than six times as likely to be imprisoned compared with whites, according to the group's annual State of Black America report issued Wednesday.
The report urges Obama to tackle the critical challenges of the times, including unemployment, home foreclosures, education and an overhaul of health care.
"As the Obama administration ushers in a new era of hope, change, and to some extent, unity for this nation, many are asking whether racial barriers have now been erased in America," the report said. "Are discrimination, division and inequality antiquated relics of the past? For a quick answer to that question, one has but to review some of the sobering statistics."
The Urban League's equality index shows the status of blacks at 71 percent that of whites. It said that economics "remains the area with the greatest degree of inequality," with social justice, health and education following.
Black in America 2
Soledad O'Brien investigates the innovative and unexpected ways people are confronting the most difficult issues facing their community.
Coming in July

"The analysis shows that while important gains were made, both for blacks and whites, in each of these areas during the 1990s expansion, there was actually a loss of ground in median household income, poverty and home ownership during the 2001-2007 expansion, known as the jobless recovery," the report's executive summary said.
The report contains essays touching on a variety of themes and issues.
One, from Gwendolyn Grant of the Urban League of Greater Kansas City, warns that the "historic" election of Obama, the nation's first black president, "may cause us to fall prey to a false sense of accomplishment and self-satisfaction, and that apathy and complacency may set in."
"We must use this moment to reinvigorate the movement and re-engage the nation in a struggle to finish the job of equality, liberty and justice for all. So as we move past this historic moment, let us not repeat the history of our greatest popular movements and allow injustice to prevail, simply because a black family lives in the White House."
Don't Miss
Grant proposes that a movement to foster equality for blacks in all realms of American life should be "fashioned" after ideas promulgated by the Obama campaign. Those ideas include blending personal responsibility and "principled ideas" with pragmatism, and building grass-roots movements crossing racial, ethnic, generational, gender and regional lines.
"We must use this moment to reinvigorate the movement and re-engage the nation in a struggle to finish the job of equality, liberty and justice for all ," she said.
The report lists policy recommendations in the areas of home ownership, jobs, health and education. Here is a sampling:
Increasing funding for underskilled workers' job training programs.
Steering workforce investment dollars to construction industry jobs.
Funding infrastructure development for public building construction and renovations of schools, community centers, libraries, recreation centers and parks.
Creating a temporary public service employee program.
Passing a home buyers' bill of rights that would protect and educate consumers and provide home-buying help.
Restoring a small business loan program and continuing tax credit funding.
Implementing "a comprehensive and universal health insurance system for all Americans."
Developing "a comprehensive health infrastructure for the delivery of health education, prevention and intervention initiatives" for blacks.
Studying health care in the criminal justice system as it relates to black inmates.
Examining economic, sociological and environmental contributors to "chronic health conditions."
Funding No Child Left Behind Act in full.
Guaranteeing access to high-quality early education for 3- and 4-year-olds.
E-mail to a friend

All About National Urban League • Unemployment Rate • Barack Obama