WASHINGTON (CNN) -- More veterans of the current era of wars were unemployed in the last month than other Americans in the same age group, according to the latest numbers from the U.S. Bureau of Labor Statistics.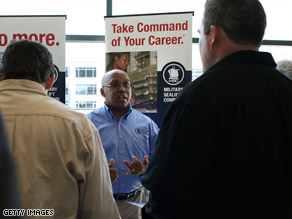 Military veterans attend the Recruit Military Career Fair on March 19 in San Francisco, California.
Veterans' groups say it's the result of significant disadvantages troops face once they leave the military.
The report showed that last month, 170,000 Americans who served in the U.S. military since September 11, 2001, were unemployed in February, a jobless rate of 11.2 percent. The unemployment rate for nonveterans older than 18 was 8.3 percent, the report said.
The February unemployment rate for post-9/11 veterans was 2.3 percentage points higher than just a month earlier, when 8.9 percent were out of work, the report said.
The unemployment rate among all U.S. military veterans was 8.1 percent, slightly better than the 8.3 percent rate for the general U.S. population.
The Bureau of Labor Statistics did not offer any analysis to explain why recent military veterans are unemployed at a disproportionate rate, although veterans' groups said there could be a number of reasons why more recent veterans are jobless than their nonmilitary peers.
One reason could be the problem military members have transferring skills learned in the service -- such as how to conduct a combat patrol -- to civilians jobs, according to Ryan Galluci at the veterans' group AMVETS.
Don't Miss
Even though employers like veterans' sense of discipline, in difficult times, they may not have the patience to get the veteran up to speed, Galluci said.
While the veterans served overseas, nonveterans were developing skills and depth in a field that put them at an advantage in the job market, he said.
"They fall behind others of their age who haven't lost any years," Galluci said.
Veterans -- especially younger ones -- are at a "distinct disadvantage" of not having a career network developed when they get out of the military, said Justin Brown of the Veterans of Foreign Wars.
"A lot joined when they were 18, left for four years and are coming back now without contacts or networks," Brown said.
"You are almost a foreigner, because you don't have a network, even if you have the capability," he said.
The lack of a network means many veterans must seek work through print ads and online job search sites -- a particularly hard way to land a job, Brown said.
Former military vets can be also face discrimination, he said.
Many vets suffer from physical injuries and psychological issues, such as post-traumatic stress disorder, he said. Employers may be wary of hiring veterans for fear of having to deal with the cost or behavioral impact of those problems, Brown said.
Brown and Galluci both said members of the National Guard and Reserves are often not hired because employers worry they will be called back to duty, leaving the company to bear the cost of replacing them temporarily while holding the job open.
Federal laws protect veterans from this type of discrimination, by law, but Brown and Galluci say it still happens.
E-mail to a friend

CNN's Adam Levine contributed to this report.
All About Veterans' Affairs • Unemployment Rate • Veterans of Foreign Wars of the U.S.