By Susan Candiotti
CNN





NEW YORK (CNN) -- Relatives of Marvin Schur, whose frozen body was found in his home in January, still don't know exactly how much he willed to his hometown hospital, but they do know they're moving ahead with a possible lawsuit against Bay City and its utility company.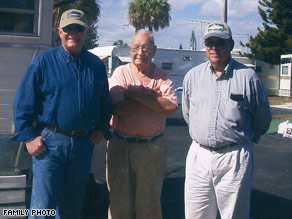 Schur, center, stands with his nephews Jerry, left, and William Walworth in Pompano Beach, Florida, in 2007.
Schur's will was formally recorded in a hearing before a probate judge Tuesday in Bay County, Michigan. The 1982 will leaves his entire estate to Bay Ridge Medical Center.
The value of his assets may be as much as $600,000, according to one of his nephews.
But Cathy Reder, the lawyer appointed as the estate's representative, told CNN she won't reveal the exact dollar amount and that she is not obligated to do so.
That's because a judge ruled Schur's estate does not require court supervision. Reder says the named beneficiary, Bay Regional Medical Center, does not wish to reveal how much it will receive "for privacy reasons."
Reder said there are four nephews, four nieces and two great nieces who might file a wrongful death lawsuit against Bay City and its utility company, Bay City Electric and Power.
The eight relatives are represented by lawyers who are waiting for the results of an investigation by the Michigan State Police into Schur's death.
His body was discovered in his home January 17. The probate judge reportedly set his official date of death as January 15.
Authorities said the temperature inside Schur's home was below freezing. Four days earlier, a limiter had turned off power to his home.
The limiter was placed there after Schur had failed to keep up with his bill payments.
One of the relatives said he had no comment about his uncle's will or possible lawsuit and referred all questions to his attorneys.
Don't Miss
One of those attorneys, Sheldon Erlich, said Schur's family is not upset about his estate.
"They're fine with it. Their feeling is that it was their uncle's money and he should dispense of it however he saw fit," said Erlich. "He had a right to do whatever he wanted to with his money. They're very humbled by it." Erlich and Reder said if a lawsuit is filed and if it is successful, any money recovered for pain and suffering would go to Schur's estate and its beneficiary, the hospital.
But the nephews and nieces could also benefit if there is proven "loss of love, affection, and companionship," according to Erlich.
Schur lost his wife, Marian, in 2007. He had no children.
Why did he leave all his money to a local hospital? His estate lawyer is not sure.
"He was a medic in World War II, and that's the only logical connection, " Reder told CNN. "He was a private and proud man."
E-mail to a friend

All About Michigan • World War II