By Susan Candiotti
CNN National Correspondent





LOUISVILLE, Kentucky (CNN) -- John Barger was devastated when he lost his printing job late last year. With the economy in shambles and many other people looking for work, the Kentucky man says he didn't know where to turn.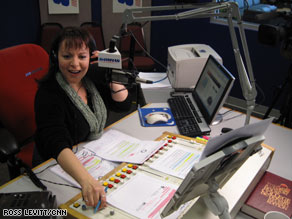 Francene Cucinello lets employers tout their job openings each Friday on her radio show in Louisville, Kentucky.
Luckily for him, some of his relatives did: The "Francene Show" on WHAS-AM in Louisville.
Barger's mom and uncle were listening to the radio station on a Friday, the day each week when host Francene Cucinello transforms her morning show into something she calls "Radio Want Ads."
For no charge, Cucinello lets employers tout their job openings on her show. Barger's relatives heard her read an e-mail about an opening at a printing business, and they frantically called him.
Barger called the business, arranged for an interview and eventually got the job. He started this week.
"I feel like I am just walking on clouds right now. I couldn't have asked for anything else," Barger said.
And the job winners like Barger aren't the only grateful ones. The employers appear happy to get a free shot at trumpeting their openings; on the Friday that CNN visited, the phones rarely stopped ringing.
Don't Miss
Job seekers can't call into the Friday shows. It's employers only. Cucinello's idea: Tell the job seekers what's available and how much it pays.
"This is not a new concept. People at radio stations all over the country have been buying and trading and swapping merchandise for years," Cucinello said.
"Now, we're just doing it with the human product, getting people and jobs hooked up," she said.
The Louisville area needs help. In December, it ranked 15th in unemployment among U.S. cities, according to the U.S. Bureau of Labor Statistics.
Francene, as she's popularly known in Louisville, says she pre-screens employers to make sure they have jobs to offer with a decent wage, preferably with benefits.
"You're on the Francene Show! Nine to 5, 5 to 9, different shift work, we don't care. If you've got a job, advertise it right now with me," Cucinello enthusiastically coaxed employers, asking them to call in.

Watch Cucinello take employers' calls »
And they are.
"The Metro Police Department is currently taking applications. ... We're looking to actually start a class around the end of June, ... so right now would be a great time to apply," one caller said.
Another man said a new attraction called Louisville Mega Caverns needed tour guides. "We need at least 15 people," he said.
One caller offered 25 clerical and administrative jobs paying from $9 to $15 an hour.
Cucinello said radio is a perfect way to bring together employers and potential employees.
"I'm in people's homes. I'm in people's cars. ... They're trusting me. I have the ability to tap into what's available right now," Cucinello said.
The man who hired Barger, Chris Shaw, first tried a newspaper classified ad to spread news of the opening at his Freedom Graphics printing company in Shepherdsville. But it was expensive and more importantly, it didn't spark any leads.
So, Shaw turned to Cucinello's "Radio Want Ads."
"This was free. We sent her an e-mail. She read it on the air. And the minute she finished, our phone started ringing," Shaw said.
His receptionist told him three people were on hold, and all said they had experience with typesetting or running a press.
"You let them hold," Shaw told the receptionist. "I'll talk to them one at a time."
Shaw ultimately got 15 calls in a week. There were plenty of experienced candidates. He was thrilled, he said, because he wouldn't have to train someone.
Shaw applauds Cucinello's radio rallying cry to the Louisville area's employers.
"It was not a ploy, not a rating grab," Shaw said. "This is someone who lives in the community and really wanted to do something for that community."
Cucinello said she's not surprised that radio is proving to be a great medium to match employers with an untapped job pool.
"This is our responsibility as broadcasters," she said. "I love my audience!"

Barger, a father of three, is thankful for Cucinello's efforts.
"All different people listen to the radio ... I think it's awesome," Barger said.
E-mail to a friend

All About Layoffs and Downsizing • National Economy • Jobs and Labor • Louisville