By Rachel Streitfeld
CNN





WASHINGTON (CNN) -- As he walks past the tiny, dingy waiting area into an equally cramped garage, Nui Srisook says business at his car repair shop is thriving.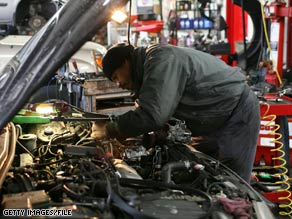 Drivers are choosing to keep their old cars longer, and they're turning to repair shops to make it so, observers say.
Sales are up 20 percent this month and Srisook spends most nights working late, helping his customers to get extra mileage out of their old cars.
"Most of the customers right now we see, they don't really have much extra money to ... buy a new car. So that's why they just do repair," Srisook said. "And now, people are willing to spend more money on maintaining the car, deciding what is broke, anything that needs to be maintained on the car."
As more cash-strapped Americans turn to do-it-yourself projects and bargain shopping, car repair shops like Srisook's are feeling the boon. Drivers are choosing to keep their old cars longer, and often they're willing to put in the money to do so, observers say.
The Automotive Service Association reports their members' sales were up 16 percent over last year.

Watch Kate Bolduan's report on the thriving auto repair industry »
"That indicated that people were coming in and putting the vehicle in the repair facilities' hands and saying, 'Look, I am going to be keeping this car. I want to be sure it runs well. I want to be sure that if there are any safety issues or any maintenance issues that I have overlooked, let's get those taken care of,' " said ASA President Ron Pyle.
Pyle said that's a change from the past, when drivers would scrimp on the cost of maintenance and repair.
"That was surprising news. We didn't expect that in the midst of the beginnings of the economic woes," Pyle said. "But they are looking at the cost of trying to purchase a new vehicle ... so I think that in relative terms that $1,000 repair to keep a $2,500 car running may be an attractive alternative."
Don't Miss
The economic slump has cut automakers deeply. Last month, sales of new cars were down more than 40 percent compared with the same time last year, according to sales tracker Autodata.
The trend seems to have translated into increased traffic at auto parts stores.
"We're doing way more business. The phones are ringing, you know, customers are walking in," said Darryl Wright, owner of D.C. Brake & Bearings Co. "Basically, if it's broke, they fix it."
In the past, only savvy auto mechanics knew to shop at Wright's nondescript discount store. Now, he sees more car owners who are looking for a cheaper deal on parts.
"[Customers will] find a guy on the street, you know -- Joe Shady Mechanics is what we call them -- to fix it at a deeper discount rate, labor-wise, and they'll send the customer in here to buy the parts on their own," Wright said. "So people are saving money that way too."

Srisook said he keeps service prices low to appeal to those bargain shoppers, such as Esther White, a loyal customer. She brought in her daughter's 1996 Oldsmobile for new rotors and brakes, and said her daughter would be driving the car "until it drops dead."
"Believe it or not, we were raised to fix things, and to hold on to things as long as we could," White said. "But it goes back to today's economy, and making the right financial decisions."
E-mail to a friend

All About U.S. National Economy • Personal Finance