By Faith Karimi
CNN





(CNN) -- Robin Stearns, 28, watched her husband apply for jobs day in and day out. She watched him scour professional networking sites in an attempt to contact prospective employers.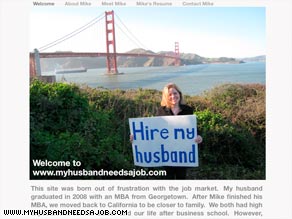 Robin Stearns created a Web site to draw employers' attention to her jobless husband, Michael.
No response.
Then an idea came to her: Why not make him stand out by starting a Web site devoted to helping him find a job? She used her tax refund to buy a MacBook, which came with a Web site building feature. A few days later, myhusbandneedsajob.com was born.
"I grew frustrated. He has been sending out resumes since he graduated but nothing has happened," the San Francisco, California, resident said. "He's such a great candidate, he would be an asset to any company."
Michael Stearns, 30, earned his master's in business administration from Georgetown University in Washington in May 2008. He says he is "basically looking to get into a corporate marketing environment" but is willing to try anything reasonable.
The site features a picture of Robin Stearns holding a sign begging for somebody to employ her husband. It also displays his resume and a profile interview and other features.
As the economy tumbles and unemployment rates soar, the jobless are using creativity to make themselves stand out. Paul Forster, co-founder and CEO of the job search site Indeed.com, urges candidates to employ measures that separate them from the masses rather than blanketing the job market with resumes.
"Don't resort to the shotgun approach," Forster advises.

Watch adults crash a teen job fair »
Don't Miss
The Internet has given job seekers an extra tool to reach out to employers. Social networking sites such as Twitter and Facebook are filled with public groups that share tips on job openings. Blogs focusing on support for the jobless are plentiful, too, helping people realize they are not alone.
For the Stearnses, defying a pack mentality and using a different approach seems to have made a difference.
The site, which has been up for about three days, has brought dozens of e-mails from both employers and other people in a similar situation. Michael Stearns said he plans to follow up on the job opportunities.
According to the U.S. Department of Labor, California has one of the nation's highest unemployment rates at 10.1 percent. The national rate is 8.1 percent.
Robin Stearns, who declined to discuss her job because she wants to focus on her husband's job search, says a lot of their friends have been victims of the economy.
"Almost 90 percent of people we know have been affected by layoffs," she said.

The couple plans to leave the site up for now.
"At least until I get a job," Michael Stearns said.
E-mail to a friend

CNNMoney.com staff writer Jessica Dickler contributed to this report.
All About Internet Marketing • Unemployment Rate • Layoffs and Downsizing • Facebook Inc.