By Drew Griffin and Steve Turnham
CNN Special Investigations Unit





WARDENSVILLE, West Virginia (CNN) -- After more than 40 years and $1.5 billion, West Virginia's massive "Corridor H" project is getting another boost from the Obama administration's economic stimulus package, despite questions over whether the project will ever be completed.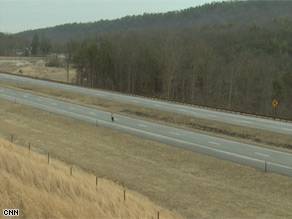 Critics of the uncompleted, lightly traveled "Corridor H" say its cost is too high.
The plan is to build a 100-mile, four-lane highway through the Appalachian Mountains, connecting West Virginia to the eastern seaboard. It has been receiving federal money for decades, largely due to Sen. Robert Byrd, the Democrat who has represented West Virginia in the Senate since 1958.
Byrd has steered hundreds of millions of dollars to the project, including a $9.5 million earmark in the $410 billion spending bill signed by the president Wednesday. Another $21 million will come from the nearly $800 billion economic stimulus bill Obama signed into law in February.
Corridor H has been billed as a way to promote economic development in the impoverished state. But most of it remains on the drawing board. It's not projected to be complete until 2035 -- and neighboring Virginia says it has no plans to add on to the eastern end of the highway, meaning the road will end in West Virginia, 10 miles from the state line.
So why keep building it?
Paul Turman, West Virginia's assistant transportation secretary, said the $21 million in stimulus money will connect two unfinished stretches of the superhighway at the midpoint of the route. The State Division of Highways said the money will create 60 jobs lasting between 18 and 24 months, which works out to $175,000 in taxpayer dollars a year for each job created.
West Virginia also says Corridor H would be an ideal evacuation route for Washington, about 100 miles away, in case of an emergency.
Don't Miss
"If something happens in the D.C. area, they can get out," Turman said.
But Virginia's refusal to connect to Corridor H means anyone fleeing would have to negotiate a 20-mile stretch of narrow, winding county road on the way west.
Critics say the cost is too high for a lightly traveled road, and the state keeps shifting its reasons for continuing to fund it.
"They went through a lot of contortions to try to explain what the need was," said Hugh Rogers, a conservationist who lives at the end of the first stretch of Corridor H. "Traffic is not the need."
At the ice-cream shop in Wardensville, where Corridor H now abruptly ends, residents say the big road does make it easier to drive to the high school, but it hasn't been a boon to business.
"It doesn't seem like it, no," waitress Jeanette Strawderman said.

Nevertheless, the project is expected to continue for another 26 years -- and another projected $1.5 billion.
"I think any time we get some money from the federal government, Corridor H manages to get a little piece of it," Rogers said. "They have to show that the project is alive. We can't let the people who have faith in it down."
E-mail to a friend

All About West Virginia • Robert Byrd