From Elise Labott
CNN





WASHINGTON (CNN) -- The United States will still try to denuclearize North Korea through multilateral talks, even if it launches a long-range missile, U.S. Secretary of State Hillary Clinton said.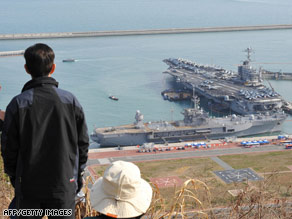 South Koreans look at the USS John C. Stennis and the USS Blue Ridge in Busan Wednesday.
The United States was anxious to resume talks with South Korea, China, Russia, Japan and North Korea aimed at ending Pyongyang's nuclear program, Clinton told reporters Wednesday after meeting with Chinese Foreign Minister Yang Jiechi.
The talks -- commonly referred to as the Six Party Talks-- have "proven to be effective, which did set forth a set of obligations which the North Koreans agreed to," Clinton said.
"We would like to get back to those and begin discussions as soon as it would be feasible, and we're pushing that right now," Clinton said.
The Obama administration was reviewing its policy toward North Korea, but Clinton has said the United States wants to engage North Korea and has promised to normalize ties with Pyongyang if totally eliminates its nuclear program.
Tensions have ramped up in recent days, as North Korea has threatened retaliation in the event of an interception of what it says will be a "satellite" launch.
U.S. and South Korean officials have said that North Korea appears to be preparing to test-fire its long-range missile, the Taepodong-2, under the guise of launching a satellite into space. The missile is thought to have an intended range of about 4,200 miles (6,700 kilometers), which -- if true -- could give it the capability of striking Alaska or Hawaii
Don't Miss
Clinton said the collective international concern about a North Korean missile launch, however, would not detract the United States and its partners from seeking an end to North Korea's nuclear ambitions.
"We are still working to try to dissuade the North Koreans. But it is important to recognize that the North Koreans entered into obligations regarding denuclearization that we intend to try to hold them to, "she said. "And that is something we're going to do regardless of what ... they may or may not launch in the future."
North Korea vowed Wednesday that it "will take every necessary measure to protect its sovereignty" in the midst of 12-day U.S.-South Korea joint military exercises.
Clinton said the U.S. special envoy for North Korea, Stephen Bosworth, was "prepared to go at a moment's notice" to Pyongyang for talks with the North Korean government during a swing through Asia last week.
"He was not invited to go to North Korea, which we regret," Clinton said.

U.S. officials said that messages were passed about Bosworth's interest in visiting the country through the North Korean mission to the United Nations, which is the commonly used channel for the United States and North Korea to communicate.
Bosworth just returned Seoul, where he said he wanted dialogue with North Korea, but he also spoke against North Korea's move to go forward with a launch, saying it would be "ill-advised."
E-mail to a friend

All About North Korea • South Korea • Hillary Clinton