(CNN) -- Three buses carrying U.S. Marines were involved in a chain-reaction crash in North Carolina on Thursday, injuring 13 Marines and a driver, the state highway patrol and the military said.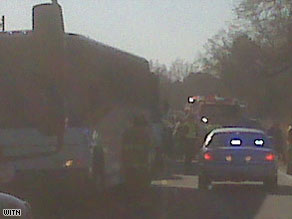 The Marines were on their way to their last exercise before their deployment this spring.
The buses were carrying 59 Marines and one sailor from the 22nd Marine Expeditionary Unit at Camp Lejeune to Norfolk, Virginia, for an exercise, according Capt. Clark Carpenter, a Marine spokesman.
The accident occurred at 7:45 a.m. as the buses traveled north on U.S. Route 17 near Maysville, North Carolina.
When they came up behind a car waiting to make a left turn, the first two buses stopped, but the third did not. It crashed into the second bus, pushing it into the first, said Sgt. J.E. Brewer of the North Carolina Highway Patrol.
The driver of the third bus was pinned inside, Brewer said. He was flown to Pitt County Memorial Hospital in Greenville, North Carolina. His condition was not immediately available.
The 13 Marines had minor injuries and were treated at Camp Lejeune Naval Hospital, Brewer said.
The Marines were on their way to load the ships of the Bataan Strike Group for a certification exercise, Carpenter said. The exercise, their last before they are deployed this spring, will not be delayed, he said.
E-mail to a friend

All About U.S. Marine Corps • Camp Lejeune