From Terence Burke
CNN





NEW YORK (CNN) -- The chairman of India's UB Group, which includes Bangalore-based Kingfisher Airlines and United Breweries, made the winning $1.8 million bid on a number of Mahatma Gandhi's personal items on auction.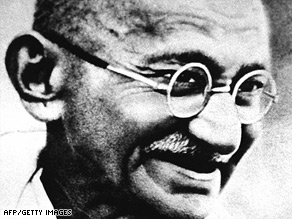 Mahatma Gandhi was known for his peaceful opposition to tyranny, which led to India's independence.
Vijay Mallya was expected to return the items to the Indian government, according to CNN-IBN, CNN's sister station in India.
Controversy surrounded the sale Thursday of Gandhi's items -- among them his metal-rimmed glasses, pocket watch, sandals, bowl and plate -- prompting the seller, James Otis, to ask that the items be withdrawn from the auction.
India voiced strong objections to the auction. Its Ministry of External Affairs said the bidding would "commercialize and thereby demean the memory of the Father of the Nation and everything that he stood for in his life, beliefs and actions."
On Tuesday, a New Delhi court issued an injunction to stop the sale.

Watch the auction stoke high interest »
But the Antiquorum auction house in Manhattan went ahead with the auction as scheduled.
The Indian government had rejected an offer from Otis, who had asked the Indian government to expand its spending on the poor in exchange for the items.
India's government already spends a large amount of money on the country's disadvantaged sectors, India's culture minister Ambika Soni told reporters Thursday.
Still, the government had hoped Otis would not allow the public to bid on the items.
Soni, the culture minister, said that India's government exercised several options to stop the auction at the Antiquorum in New York.
Gandhi, who waged a long struggle against British rule in India, was assassinated in New Delhi by a Hindu fanatic on January 30, 1948. He is still widely revered for his insistence on non-violent protest to achieve political and social progress.

Many Indians believe selling Gandhi's items for profit is outrageous.
"I feel very sad about it because Gandhi himself never believed in private possessions," said Varsha Das, director of India's National Gandhi Museum, using a term of endearment for Gandhi. "He gave away everything. He did not even have a home to live in."
E-mail to a friend

CNN's Harmeet Shah Singh contributed to this report.
All About Mahatma Gandhi • India