By Jessica Ravitz
CNN





(CNN) -- With the West posting the highest regional rate of unemployment, at 8 percent, according to the latest government figures, people living there are hurting to find employers willing to take them in.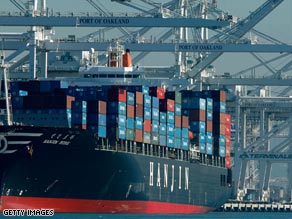 The Port of Oakland, in California, will see 6,000 new jobs, thanks to a $150 million deal.
The Bureau of Labor Statistics reported in January, after crunching December 2008 numbers, a 2.9 percent regional bump in unemployment from the same time in 2007.
California, in the last month of 2008 alone, lost more than 78,000 jobs, outpacing any other state.
But while California, Nevada and Oregon posted jobless figures, respectively, of 9.3, 9.1 and 9.0 percent, other Western states appeared more stable. Wyoming's latest figure of 3.4 percent unemployment was better than any other in the nation, and Utah came in at No. 5, with an enviable rate of 4.3 percent.
Affiliates working with CNN, meantime, are looking out for signs of promise -- giving viewers and readers insights into where some of the jobs are.
Albuquerque, New Mexico: Sun brings rays of hope
Wanting to soak up some of the steady rays, Schott Solar, a glass company that works in the solar power business, is bringing green jobs to Mesa Del Sol in Albuquerque, KOAT reported.
The $100 million manufacturing plant will bring renewable energy education to the area, as well as jobs, which will number 170 by September, the station reported.
"Right now, we're hiring mostly production technicians who will be working in the factory," Lauren Lake, Schott's human relations director, told KOAT. "We're looking for people who know how to run equipment and are willing to work together on a team." See more about KOAT's report on solar opportunities
Oakland, California: Help comes ashore
The Port of Oakland is set to get a windfall investment of $150 million, which will bring with it about 6,000 new jobs, KTVU reported.
A 50-year deal for a five-berth project was announced Wednesday by Ports America, which will install new cranes as well as environmental upgrades, the station said.
The anticipated jobs will include port and construction work, and the first year's lease payment of $19.5 million will be paid starting in January 2010, KTVU reported. Read KTVU's story about the port investment
Las Vegas, Nevada and Black Hawk, Colorado: Casinos bet on employees
It turns out the new M Resport Spa Casino in Las Vegas is short-staffed and needs to immediately hire 250 more employees, KTNV reported.
Only open since March 1, demand has nearly doubled what officials expected, showing that "despite the economy, there are people who are willing to spend if they know they are getting great service and value," Anthony A. Marnell III, the casino's chair and CEO, said in a statement ot KTNV. Visit KTNV for more info about the new casino jobs
And across the border in Colorado, the Golden Casino Group is putting on the Black Hawk table positions for 90 new dealers, no experience necessary, KUSA reported.
"Education is always a factor, but mainly what we're looking at is personality and ability to entertain," the group's Jef Bauer told KUSA. Read KUSA's story about the Black Hawk positions
Vancouver, Washington: The Far East invests in West
A chemical company based in Japan recently announced plans to expand its investment in Vancouver, where it's already one of the city's largest employers, KPTV reported.
Mayor Royce Pollard told KPTV about an early February visit he and the city manager took to Japan, where they met SEH executives and learned of the company's plan to double the size of Vancouver's SEH America plant. The upgrade could amount to a several-hundred-million-dollar investment, as well as new jobs, the mayor told the station.
For a city that's grown accustomed to "doing less with less," according to the mayor, Japan's support of the local economy is good news for those in Vancouver, KPTV reported. Find out more from KPTV about the anticipated Vancouver jobs
E-mail to a friend

All About Alternative Energy Technology • Jobs and Labor • Japan