(CNN) -- Terrell Owens, a former San Francisco 49er and a former Philadelphia Eagle, is now a former Dallas Cowboy. The Cowboys released Owens late Wednesday, according to published reports.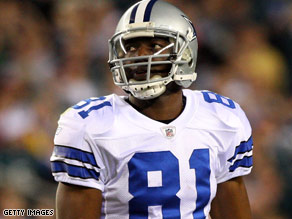 The Dallas Cowboys have decided to part ways with wide receiver Terrell Owens, according to published reports.
Questions surrounding the future of the controversial wide receiver have swirled since the Cowboys' season ended with a 44-6 loss at Philadelphia that kept Dallas out of the playoffs.
Owner Jerry Jones had said in recent weeks that he had not decided whether to keep or release Owens.
In early February, Jones struck down an ESPN report that Jones' son, Stephen, who is the team's vice president, was lobbying his father to cut the wide receiver.
Owens signed a three-year, $25 million contract with Dallas in March 2006. He signed a new four-year, $34 million deal that included a $12 million signing bonus, in June 2008.
Owens finished the 2008 season 69 receptions for 1,052 yards and 10 touchdowns. In Owens' three seasons with the team, the Cowboys went 31-17, but 0-2 in the playoffs.
While Owens has produced solid numbers on the field, his career has been plagued with controversy.
After Owens left the San Francisco 49ers in 2003, he insinuated in an interview with Playboy magazine that his then-quarterback, Jeff Garcia, was homosexual.
As a Philadelphia Eagle, Owens made headlines for coming back to play in Super Bowl XXX after suffering a severely sprained ankle and a fractured fibula weeks earlier. The following season, he voiced his displeasure with QB Donovan McNabb and Eagles management, which led to a four-game suspension without pay and his eventual deactivitation from the team.
In September 2006, police responded to Owens' home after his publicist found the wide receiver unresponsive with an empty bottle of painkillers. Owens refuted reports that it was a suicide attempt and claimed a combination of painkillers and supplements made him groggy.
This past season, Owens was reportedly jealous of Cowboys quarterback Tony Romo's relationship with tight end Jason Witten. According to published reports, Owens believed Romo and Witten held private meetings and created plays without including him.
Published reports also said Owens had issues with Cowboys offensive coordinator Jason Garrett's play-calling.
E-mail to a friend

-- CNN.com's Kamal Wallace contributed to this report.
All About Terrell Owens • Dallas Cowboys