(CNN) -- A Connecticut woman who was mauled last month by a chimpanzee remains in critical condition at the Cleveland Clinic, and her potential for recovery remains unclear, the facility said Wednesday.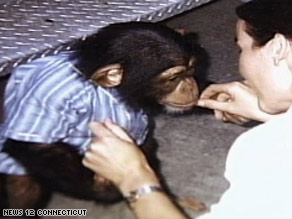 Travis, seen here as a younger chimp, was fatally shot by police.
Charla Nash, 55, lost her nose, upper and lower lips, eyelids and both her hands in the attack, as well as the "bony structures in her mid-face," the Cleveland Clinic said in a written statement.
"While these wounds have been stabilized, critical issues still remain related to a significant traumatic brain injury and injuries to her eyes that threaten her vision," the facility said.
"The full extent of these injuries, and her potential for recovery, if any, remain unclear at this time."
Nash was mauled February 16 by her neighbor's pet 14-year-old chimpanzee, named Travis, in Stamford, Connecticut.
Police shot Travis to halt the attack, and he later died of gunshot wounds.
Nash was transported to the famed Cleveland Clinic in Ohio, where the nation's first face transplant had been performed.
The facility said Wednesday that "any consideration of reconstructive options is premature at this time."
E-mail to a friend

All About The Cleveland Clinic