(CNN) -- Clinging to an overturned boat for two days, Nick Schuyler kept going back to one thought: he didn't want his mother to attend his funeral, Schuyler's doctor told reporters Wednesday.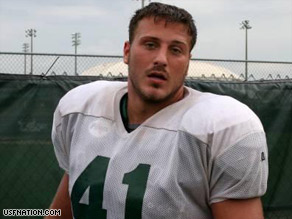 Schuyler was a walk-on defensive end at the University of South Florida in 2006 but didn't play in a game.
"He was in the water for about 46-47 hours," said Dr. Mark Rumbak, a pulmonary/critical care specialist at Tampa General Hospital in Tampa, Florida. "He alternated from being in the water and on top of the boat. He kept falling in."
Schuyler was plucked from the Gulf of Mexico about 40 miles west of Egmont Key, Florida, on Monday afternoon. He and three other men, including two NFL players, embarked on a fishing trip in a 21-foot, single-engine boat from the Seminole Boat Ramp near Clearwater Pass about 6:30 a.m. Saturday, officials said.
A search was launched for them early Sunday after they failed to return.
The Coast Guard called off the search for the three other men Tuesday evening. They include NFL players Marquis Cooper, a linebacker for the Oakland Raiders, Corey Smith, a free agent, and William Bleakley, a former college football player.
Authorities believe the boat capsized sometime Saturday as the men were attempting to lift its anchor. The men were not wearing life jackets at the time, the Coast Guard said, but they swam under the boat and put them on.
Schuyler told rescuers that all four men clung to the boat for a time, but eventually became separated, the Coast Guard said. In calling off the search Tuesday, the Coast Guard said authorities believe if there had been any more survivors, they would have been found.

Watch doctor describe the 'miracle' »
Schuyler's body temperature was 89 degrees when he was pulled from the water, which indicates "moderate hypothermia," Rumbak said. However, he was put into warming gear, and by the time he arrived at the hospital his temperature was a nearly normal 95 or 96 degrees, he said.
Schuyler had suffered some trauma to his muscles, as well as his knees, ankles and chest, and was mildly confused upon his arrival, Rumbak said.
As of Wednesday morning, Schuyler was doing very well, Rumbak said, and had been upgraded to good condition, although he remained in an intensive care unit.
He said Schuyler was being closely observed to make sure no complications develop from his hypothermia, but he likely will be leaving the intensive care unit within a couple of days. He said he did not know when Schuyler might be released from the hospital.
Also Wednesday, Coast Guard crew members who rescued Schuyler recounted his discovery for reporters.

Watch story of rescue being told »
Operations Coordinator Mike Briner said he was looking out the window of a Coast Guard cutter when he spotted something. Taking a closer look, he realized is was a person clinging to an overturned boat. The hull was white, making it difficult to discern among whitecaps, he said.
"I said, 'Hey, I've got something,' " he said. After determining it was a person, crew members reacted immediately, he said, "Everybody ran to their assigned duties and started getting ready."
When Schuyler was brought on board, "He just kept saying, 'I'm cold,' " Briner said. "He was shivering."
Family members of the three missing men have vowed they will not give up hope. Cooper's father, Bruce Cooper, told reporters he and friend Terry "Tank" Johnson, a defensive tackle for the Dallas Cowboys, moved forward with their own search Wednesday.
Three hired pilots conducted an air search, he said, and at least one plans to return Thursday. More pilots are being sought, Cooper said.
"It's very, very difficult," he said, "and I find myself at times quite despaired, to the point to where I'm saying, 'Well, I lost a son.' But then as I begin to think on his character, on his personality, I start getting a smile, and I start getting optimistic because I say, 'This kid is going to fight to the bitter end.' And so in my heart of hearts, I just believe he's out there somewhere just waiting to be found."
He said he didn't know how long the search would continue.
Asked about a report that Schuyler characterized Marquis Cooper as delusional, taking off his life vest and jumping into the water, Cooper said he believes it's incorrect, although he said Schuyler might believe that.
"I raised [Marquis]. I lived with the kid. That's not his personality," Cooper said.
The St. Petersburg (Florida) Times, citing a victim's relative who said he was briefed by the Coast Guard, reported this week that Schuyler told investigators the two NFL players, at separate times, took off their life jackets and let themselves be swept away. Schuyler said Bleakley later thought he saw a light and decided to remove his life jacket and swim for it, the Times reported, citing the relative.
On Wednesday night, Smith's sister Yolanda Merrill told Larry King that she didn't think her brother would have given up.
"I know Corey is a strong man," she said. "I know that the friends that were with him would not have given up either. And I know that if it was his family members, they wouldn't give up either so I am trusting and I'm hopeful."
Schuyler's doctor said he did not think Schuyler would have lasted another five to 10 hours in the water.
"I think he was almost to the end at that time," Rumbak said. "But you can never predict. If you had asked me before, I'd probably have said he wouldn't have lasted 46 hours or 47 hours."
The water temperature was about 63 degrees when Schuyler was clinging to the boat, he said.
"Sixty-three degrees is pretty cold," Rumbak said. "When you're actually in the water all the time, you have no resistance to losing heat. The heat just dissipates."
But, he said, Schuyler's good physical condition helped him through his ordeal and is aiding in his recovery. "I'm quite proud of him," Rumbak said.

Smith and Cooper were teammates with the Tampa Bay Buccaneers for part of the 2004 season, when Cooper was a rookie, according to the NFL's Web site. Smith, who entered the league with Tampa Bay in 2002, went on to play for the Washington Redskins before moving to the Detroit Lions for the 2006 season. Cooper has played for six teams in his five-season career.
Bleakley lettered from 2004 to 2006 as a tight end for USF, and Schuyler was a walk-on defensive end at USF in 2006 but never played in a game, according to a spokesman for the university's athletics department.
E-mail to a friend