(CNN) -- The California-based collector who plans to auction off Mahatma Gandhi's belongings said he will meet with Indian government officials on Wednesday to try to settle a row over the rightful ownership of the items.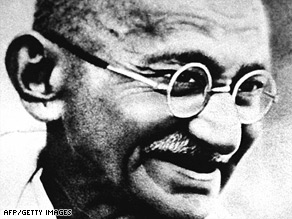 Mahatma Gandhi was known for his peaceful opposition to tyranny, which led to India's independence.
James Otis told CNN that he hopes the Indian government is "willing to offer something very generous to India's poorest in exchange for the donation of the items to the government."
"I would hope that the Indian government would offer something as great as Gandhi's cause," Otis said in Los Angeles. He said he will travel to New York to meet with Indian officials at the government consulate there on Wednesday.
"I will ask the Indian government if they would do a great gesture to the poorest of India, like those that we've all seen in 'Slumdog Millionaire,'" Otis said, referring to the Academy Award-winning film.
If the Indian government does not "step up" and make an offer, Otis said he plans to auction the items -- which include Gandhi's the famous metal-rimmed glasses -- on Thursday and donate the proceeds "to promote Gandhi's great words and actions."
"The majority of the money that is received from this auction will be going to non-violence causes, causes that will promote the discussion and the debate about non-violence," he said. "That is where I believe Gandhi would have hoped this money would have gone."
Gandhi, who waged a long struggle against British rule in India, was assassinated in New Delhi by a Hindu fanatic on January 30, 1948. He is still widely revered for his insistence on non-violent protest to achieve political and social progress.
Otis said he did not fully understand the outrage over the planned auction because Gandhi was not interested in material possessions, many of his belongings are already in India's museums, and Gandhi himself had often auctioned off gifts that he had received to raise money for the poor.
"I understand the anger that people want his treasures, his national treasures," Otis said. "I hope they understand that if the Indian government does step up and do it as a grand gesture ... to help poorest of poor, I think they would understand and feel that Gandhi's work is being achieved through these possessions being auctioned off."
The glasses are scheduled to be auctioned off at the Antiquorum auction house on New York's Madison Avenue along with Gandhi's pocketwatch, sandals, bowl, and plate with letters of authenticity, according to the Web site for Antiquorum, which specializes in watches. The glasses and other items are estimated to sell for as much as $30,000, the Web site said.
On Tuesday a high court in New Delhi, India, issued an injunction to stop the auction scheduled to take place on Thursday.
The ruling was based on a plea filed by a trust that he said cited itself as the "rightful beneficiary" of the articles under Gandhi's will, said India's solicitor-general, Mohan Parasaran.

He added that the order would be served to the auction house through the Indian consulate in New York.
When asked about the ruling, an Antiquorum representative told CNN Tuesday that "at this point the Gandhi items are still being auctioned on Thursday."
E-mail to a friend

CNN's Terence Burke and Harmeet Shah Singh contributed to this report.
All About Mahatma Gandhi • India