By Bill Mears
CNN Supreme Court Producer





WASHINGTON (CNN) -- The Supreme Court has dismissed a lawsuit filed by a high school football coach who had been forbidden to join in pregame prayers led by his student athletes.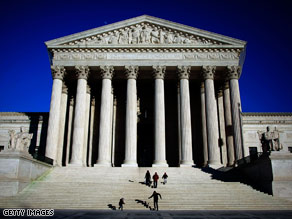 New Jersey high school football coach Marcus Borden had hoped the Supreme Court would take up his appeal.
The justices without comment on Monday refused to take up the appeal of Marcus Borden.
At issue was a school district policy that banned coaches or adults from participating in prayers initiated and conducted by students.
Borden sued officials in East Brunswick, New Jersey, after they ordered him to stop bowing his head and "taking a knee" as a sign of respect while his players prayed in the locker room before games. He said such gestures were secular in nature, but the school said that as a municipal employee, Borden's actions could be seen as government endorsement of religion, potentially subjecting the school to lawsuits or sanctions.
The school district said the coach had a long history of leading such prayers, even after complaints from several parents. Officials in their appeal said Borden even arranged a chaplain for team dinners.
He had been coach of the East Brunswick Bears since 1983 but quit more than three years ago after refusing to comply with the school directive. He compiled a 116-100-1 record.
A federal appeals court agreed the state policy was constitutional and that the school board had the authority to ban school employees from participating in prayer activities.
The Supreme Court 46 years ago banned school-sponsored prayer recited at the beginning of the class day. Similar "moment of silence" laws, designed for students to engage in mediation or voluntary prayer, also were ruled unconstitutional when the purpose was viewed as a roundabout way to promote religion or return prayer to public schools.
Such a ban was reaffirmed in 1992 in a case involving prayer at school-sponsored assemblies. Justice Anthony Kennedy concluded, "The Constitution forbids the state to exact religious conformity from a student as the price of attending her own high school graduation."
In 2000, a high court majority banned prayers at public high school football games, even if they were student-led and initiated. The case involved Texas students using loudspeakers to conduct pregame prayers with the team and spectators. Justice John Paul Stevens in that case concluded such a pregame prayer "has the improper effect of coercing those present to participate in an act of religious worship."
Student-led prayers in the Borden case, according to the trial record, were conducted privately in the team locker room.
The case is Borden v. School District of the Township of East Brunswick (08-842).
E-mail to a friend

All About U.S. Supreme Court • High School Athletics • High School Football • New Jersey