By Soledad O'Brien
CNN Special Correspondent






Editor's note: In our Behind the Scenes series, CNN correspondents share their experiences in covering news and analyze the stories behind the events. CNN's Soledad O'Brien has followed 30 youngsters, ages 11 to 16, since August, since she traveled with them from Bushwick, Brooklyn, to Johannesburg, South Africa on a volunteer mission to serve the impoverished and AIDS orphans.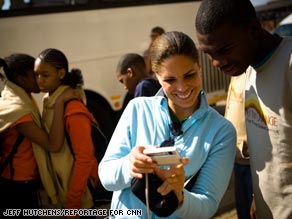 CNN's Soledad O'Brien shares a photo with Jonathan Severe, 14, in Soweto, South Africa.
NEW YORK (CNN) -- The young man looks nervous standing in front of the gym at the Salvation Army Center on Bushwick Avenue. His eyes are cast down and he shifts from foot to foot, seeming intensely interested in his shoes.
Every 30 seconds or so, he lifts his head. His eyes dart around the room, taking in about 100 of his friends who are sitting in plastic chairs. They are dressed in colorful basketball league T-shirts and they chat with each other as they wait to hear Jonathan Severe, 14, and five of his friends talk about their life-changing journey to South Africa in August.
Severe is a star basketball player and the Salvation Army Center is his home gym. He usually rules this place and is utterly unused to feeling so terrified here. The presentation starts with an introduction from the adults in charge and too soon it his turn to speak.
We hear him take a deep breath and he reads from the Power Point presentation projected on the screen.
"The flight to Johannesburg was 18 hours," he says.

Watch the kids' journey to South Africa »
His delivery is rushed, the words mumbled and odds are good nobody in the audience would have heard him if he weren't holding a microphone. However, for Jonathan Severe this is a huge success. He is giving a presentation!
"I was like a proud mommy. I felt like I had birthed that child," Malaak Compton-Rock tells CNN.
Compton-Rock, the wife of comedian Chris Rock, is a tireless advocate and fundraiser for impoverished children. She stood next to Jonathan during the presentation and was prepared to read a few of his slides if he got too scared. But he never needed or wanted her help.
This is all especially amazing because when Compton-Rock first met Jonathan last May, he was interviewing to be a part of her "Journey for Change" trip to South Africa. Back then he said maybe six words during the interview. He barely raised his eyes from the floor despite kicks from his grandmother under the table. We never thought Compton-Rock would take him. She did.
'Black in America 2'
Soledad O'Brien and Anderson Cooper examine the continuing challenges of being black in America and look at the pioneers and leaders in the African-American community in a special preview of "Black in America 2."
Tonight, 10 p.m. ET

On the last day of July she and her staff, along with a group of college-age mentors, took 30 kids ages 11 to 16 from Bushwick, Brooklyn, to Johannesburg, South Africa. They traveled 8,000 miles on a volunteer mission to serve the poorest of the poor: some of South Africa's 1.4 million AIDS orphans.
Unfamiliar with Bushwick? For years it was a community with a thriving drug trade, severely underachieving schools, extreme poverty and a staggering rate of teenage pregnancy. It was ravaged by fires and looting during the summer of 1977 and hit hard by the crack cocaine epidemic of the 1980s.
Bushwick is recovering now, but half of the children under age 18 still live below the poverty line. A quarter of the adults never make it past the ninth grade and more than half never graduate from high school.
The children Compton-Rock picked for "Journey for Change" are what educators and social workers call "at-risk" -- at risk of having babies as teenagers; at risk of never finishing high school or achieving their dreams; at risk of never knowing the world beyond their neighborhood.
The South Africa trip was Compton-Rock's brainchild -- to broaden the horizons of young teens and give them perspective on their own lives.

See photos of their journey to South Africa »
"I believe by traveling you open up your life," Compton-Rock told a crowd gathered for a news conference in Johannesburg shortly after the group arrived. "You don't think locally, you start to think globally and internationally and I think it gives you a sense of confidence."
She also wanted the children to know "that in the United States of America, even in Bushwick, we have certain services that I want the children to understand that they need to take advantage of."
Compton-Rock is talking about access to free public education, food, knowledge and social mobility -- elusive things for South Africa's impoverished and particularly so for the country's AIDS orphans. This is a lesson all 30 of the Bushwick kids witnessed on their trip.
Jeremy Baker, 15, was one of the young men on the journey. He was a leader in South Africa, constantly raising his hand to ask questions and the first to help deliver supplies or try an odd delicacy -- such as fried worms. However, Jeremy dreams basketball will lead to his success. He's not engaged in school and his poor grades don't reflect his obvious intelligence.
In August, Jeremy found himself sitting in the home of three orphans ages 21, 17, and 15. The 21-year-old was in charge; she had been raising her younger sister and brother since she was 16. A local charity put her though high school.
"I wanted to be a social worker," she told about 15 young people in her living room. Right now that is impossible. There is no money for college. Her sister and brother are finishing high school, thanks to the same charity, but they too fear they'll never be able to go to college.
Jonathan Severe was with Latoya Massie, 14, and three other Brooklyn kids when they turned into a dirt alley in Soweto and ducked under barbed wire to meet with a woman who had literally scrawled her dreams on a wall. Her name is Lindiwe. The 21-year-old had used bold red to paint a poem on tin. It begins, "Each day I dream but it never end. Each day I plan but it never happen."
Lindiwe was living in a series of tin shacks with her three children ages 4, 1 and 3 months, along with an aunt, a grandmother and an 18-year-old brother. The floor of the home was mud, the roof had holes, there was no refrigerator for food and no light to study by. Their toilet was at the end of an alley.
The brother said he would like to finish school but there wasn't enough money for supplies.
Compton-Rock told the kids to add stationery and pencils to their shopping lists.
"We'll find out how much your school uniform is and we'll give that to your granny," Malaak promised the young man. "The kids will do all the shopping for you, and we'll come back and bring you what you said you needed."
"OK," he said.
Latoya is intimately familiar with American-style poverty: food stamps, pantry food and government checks. At the end of the alley she told us she was "speechless." That sort of total deprivation was unfathomable to her.
Later that night, the children learned there is not enough money to buy everything on their lists, and Latoya broke down.
"What are you crying for," we asked Latoya as she sat atop a picnic table, bawling.
"About all the things they don't have or that you can't do anything about it," Latoya replied. "Can't really do anything about it."
But they could do a little something about it. The next day, all 30 kids and their mentors went shopping. They bought loads of rice, canned food, tea, diapers, blankets clothing, shoes and many household items. They delivered the goods to about 12 different homes in Soweto. They would also help several more families in a massive slum called Diepsloot.
At the end of the two-week trip in August, Latoya clearly was moved and affected by the experience. When we asked her what she would take back to Brooklyn, she said with a broad grin, "Service is the rent you pay for living!"
It's a quote from child rights activist Marian Wright Edelman, and one she had heard Compton-Rock use repeatedly throughout the trip.
Jonathan and Jeremy were taking lessons home, too.
"If you're kinda poor in New York," Jonathan explained, "you're not kinda poor. You still have a pair of sneakers and you still go to school."
On a bright Sunday morning in Johannesburg, Jeremy told us the trip had encouraged him to talk with people and not keep to himself.
"It changed me because I can't complain about what I got. If you give people over here a used shirt or something like that they be real happy and stuff," Jeremy said.
Now, the kids have been back in New York for more than six months. They all signed contracts promising to stay involved with Compton-Rock's program by volunteering and sharing their experiences with friends.
In September they held a car wash to raise money for a little girl who lost her mother in a shack fire. They attended a high-end photo auction to raise money for a program that feeds the homeless. Latoya was one of the "Journey for Change" kids who exhibited her work.
"I feel like a celebrity," she gushes. "Come on! Look at me. Look at me."
They are all changing -- some radically, others less radically. Some of them have taken the lessons on education to heart and their grades have improved dramatically. Others, who we thought would begin to excel in school, are still failing. Yet, every child has evolved in some way.

Jonathan, for instance, seems to have a lot more self-confidence.
You can see some of the changes in the blogs they've posted on CNN.com. They've been blogging since August. There are even more changes you will see on camera when "Black in America 2" airs in July.
E-mail to a friend

All About South Africa • HIV and AIDS • Volunteering