NEW YORK (CNN) -- Good, but not enough, the Rev. Al Sharpton said in response to New York Post Chairman Rupert Murdoch's apology for a controversial editorial cartoon published in the newspaper. Online Wednesday, some Post readers reacted similarly.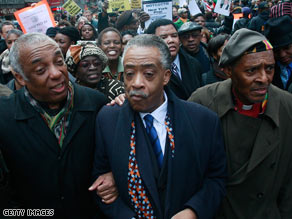 Rev. Al Sharpton, center, leads protests against the New York Post cartoon on February 19 in New York City.
Sharpton has lead a chorus of criticism and allegations that the cartoon published Feb. 18 was racist.
He said Murdoch's apology was a "good gesture," but he still had questions.
Public debate on the issue continued to rage on the New York Post Web site early Wednesday, with some saying they were offended enough to cancel their subscriptions. Others defended the cartoon, calling it harmless and calling critics of it oversensitive.
Murdoch's "apology leaves a lot more questions than it gives answers," Sharpton said Tuesday. "The question is what will guarantee that these kinds of things will not happen again. Let us make no mistake about it: We have seen two apologies in one week -- really one and a half apologies -- which is unprecedented, but clearly not far enough."
The cartoon by Sean Delonas referenced the mauling of a Connecticut woman by a chimpanzee who was later shot and killed by police. In its caption, one of the officers says, "They'll have to find someone else to write the next stimulus bill."
The cartoon was published the day after President Obama signed the stimulus bill.

Watch CNN's Lou Dobbs talk with Sharpton »
The Post issued a statement the following day, apologizing but noting that the cartoon was meant to mock what it called an "ineptly written" stimulus bill.
Many critics said the cartoon played on historically racist images by appearing to compare Obama, the nation's first black president, to the chimpanzee.
Murdoch apologized Tuesday.
"Today I want to personally apologize to any reader who felt offended, and even insulted," according to the statement from Murdoch, who is also chairman and CEO of News Corporation, which owns the paper.
"I can assure you -- without a doubt -- that the only intent of that cartoon was to mock a badly written piece of legislation.
"It was not meant to be racist, but unfortunately, it was interpreted by many as such. We all hold the readers of the New York Post in high regard, and I promise you that we will seek to be more attuned to the sensitivities of our community."
Leaders of the NAACP on Saturday called for the firing of Delonas.
Delonas called the controversy "absolutely friggin' ridiculous."

"Do you really think I'm saying Obama should be shot? I didn't see that in the cartoon," Delonas told CNN. iReport.com: Should Murdoch, N.Y. Post do more?
"It's about the economic stimulus bill," he added. "If you're going to make that about anybody, it would be (House Speaker Nancy) Pelosi, which it's not."
E-mail to a friend

All About Al Sharpton • Rupert Murdoch • NAACP • Newspapers